Events and Festivals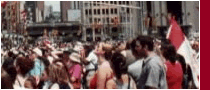 Welcome to the Ottawa Entertainment.ca Events and Festivals Section. Here you will find all Events and Festivals happening in the Ottawa Region.

Tulip Festival
May 4-21, 2012
Various Sites in Ottawa
(613) 567-5757
The festival's mandate is to preserve this heritage and celebrate the tulip as a symbol of international friendship by engaging local organizers, volunteers, artists, performers, tourists and festival-goers in what has become an annual ritual of spring and one of Canada's best loved and well-known cultural events.


Ottawa Race Weekend
May 23-24
The Ottawa Race Weekend - Canada's premiere race festival - combines competition, participation and fundraising to make a distinctive contribution to the health of our community.


The Ottawa International Children's Festival
613-241-0999
May 30, 2012 to June 3, 2012

For over 20 years, the Ottawa International Children's Festival has been holding a five-day extravaganza of the finest quality theatre, dance and music for young audiences in our community. We create programs for children aged four to 15 focused on enriching school curriculum and promoting the arts as an integral part of children's education.


Italian Week Ottawa
June 7, 2012 to June 17, 2012
Italian week has really grown over the last 3 decades and this is thanks to all of the sponsors and the many volunteers. In order to continue this tradition, we cordially invite you to participate and join the many members of our community that make this festival one of the best known events in the nation's capital.


WestFest
June 8, 2012 to June 10, 2012
Westborough
Five years have passed since our debut, and we're still FREE! To mark this achievement, WESTFEST has been extended to five days. The festival's prime focus this year will be "A Celebration of Canadian Aboriginal Women in Music." Starting June 11 through June 15 an estimated 50,000 people will stroll through the community of Westboro Village taking in music, visual art, theatre, literary readings, dance, spoken word, and performance art. Join us on Richmond Road, between McRae and Golden Avenues, in Ottawa. Everyone is welcome!


Festival Franco Ontarien
June 14, 2012 to June 16, 2012
"This Festival is a unique opportunity for artists to contribute to the development of Francophone communities in Canada and abroad," said Mr. Galipeau. Our Government is proud to support this important cultural event for all Francophone communities and people in Ontario."


Ottawa Fringe Festival
June 14, 2012 to June 24, 2012

Ottawa's uncensored, unjuried festival of theatre, music, visual arts and so much more! Over 300 performers bring Downtown Ottawa alive. With over 300 performances, there's something for everyone!


Tim Hortons Ottawa Dragon Boat Festival
June 22, 2012 to June 24, 2012
The Tim Hortons Ottawa Dragon Boat Festival is an annual, culturally diverse festival held at Mooney's Bay Park every June. What began in 1993 with 25 dragon boat teams competing in a half-day event has grown into a three-day festival with 190 teams in competition!


Ottawa Jazz Festival
June 21, 2012 to July 1, 2012
The TD Canada Trust Ottawa International Jazz Festival is the premier music event to take place in the heart of downtown Ottawa. The Festival boasts the biggest loyal audience of any event in eastern Ontario. It has presented some of the most dynamic jazz artists on the scene.


Canada Day Ottawa
July 1st
Downtown Ottawa and Byward Market
Join us for a day of fun, sun, activities, live shows, street performers, fireworks, Parades, face painting , art expositions , X-treme sports demonstrations with 300,000+ of your closest friends here to celebrate our great country on July 1st right here in Ottawa.


RBC Royal Bank Ottawa Bluesfest
July 4, 2012 to July 15, 2012
The Ottawa Bluesfest is ranked by Billboard Magazine as one of the top-10 most successful outdoor music festivals in the world. People travel from far and wide to attend the 'fest, and music fans in Ottawa look forward to opening night with mounting anticipation, year after year.

HOPE Volleyball SummerFest
Mooney's Bay, Ottawa
July 14, 2012
HOPE's flagship Volleyball SummerFest event combines recreational volleyball with live rock entertainment. Each year, more than 25,000 players and spectators flock to Mooney's Bay Beach in Ottawa for the greatest summer party in the region.


Ottawa Busker Festival
August 2-6, 2012
Gymnasts, fire-eaters, jugglers, sword swallowers, comedians were all here and helped to make this years Buskerfest a huge success.


The Art of Leadership
September 18,2012
Building on the success of last year's SOLD OUT national tour in Canada, The Art of Leadership conference will be coming to Ottawa on September 18th, 2012. This world class program features five internationally renowned bestselling authors and visionaries, who will share an exciting blend of cutting edge thinking and real world experience on today's most critical leadership issues.


Capital Hoedown Country Music Festival
August 10, 2012 to August 12, 2012
The star-studded line-up of artists performing at Capital Hoedown on August 10, 11, and 12 includes super star Taylor Swift, along with Reba, Brad Paisley, The Band Perry, Ronnie Dunn, Terri Clark, Gord Bamford, Dean Brody, Tara Oram, Marshall Dane, Chad Brownlee and High Valley. Capital Hoedown is Taylor Swift's only scheduled North American performance in 2012.


Ottawa Greek Festival
August 15, 2012 to August 26, 2012
There is so much for everyone to see and do at the festival. Here is a list of some of the favourite Highlights. Fine Greek Cuisine Café Ouzeri - Specializing in Greek Desserts & Coffee Traditional Greek Dances Live Greek Music The Zorba Show


Capital Pride Festival
August 17, 2012 to August 26, 2012
In 2001, over 8,000 people gathered along Bank Street to cheer on as the parade made its way on a longer route from Lansdowne Park to Parliament Hill. 2002's Pride events blew away all expectations - 55,000 people attended the parade and the street party. No one expected this. Pride 2002 wasn't just the most successful Pride Festival here, but it was one of the most successful 1-day events in Ottawa.


Ottawa Reggae Festival
August 17, 2012 to August 19, 2012
The Ottawa Reggae Festival is non-profit, volunteer-driven, three-day music festival. The festival's mission is to promote cultural arts and diversity in Canada's National Capital Region, showcasing international artists while maintaining 75 per cent Canadian content.


Ottawa Folk Festival
September 6, 2012 to September 10, 2012


The tents and sound gear have been packed away for another year and by all accounts, the 16th Annual Ottawa Folk Festival was an incredible success. From the electrifying main-stage performances to the energy and party atmosphere at the dance tent, for four beautiful days Ottawa got its Folk on!


Richmond Fair
September 13, 2012 to September 16, 2012
Come and help us celebrate our 164th annual Fall Fair. We are located just 15 km southwest of downtown Ottawa, Canada's national capital.


Ottawa International Animation Festival
September 19, 2012 to September 23, 2012
The nation's capital will once again become the center of the animation universe. The Ottawa International Animation Festival (OIAF) is the largest event of its kind in North America, a major film event attracting attendees from around the world.


Carp Fair
September 20, 2012 to September 23, 2012
Another awesome year at the Carp Fair is coming soon! We have big plans for you this year and we are sure we can top the fun from last year, with a few cheers, shouts and screams from you.


La Vendemmia
September 22 to Sunday September 25th
In Italian tradition, harvest time is when Farmers gather together to celebrate the earth's bounty, catch up with their neighbors, and offer their produce. It is a time of merriment, celebrating the end of the intense work involved in planting, growing, and harvesting.



Ottawa Writers Festival
October 25, 2012 to October 30, 2012
For more than a decade now, we've been celebrating the world's best writing from home and abroad with an eclectic program that presents interactions with leaders in the worlds of science, history, poetry, politics, spoken word, economics, drama, fiction, biography, music, religion, spirituality and more.


Halloween in Ottawa
October 31
See what special events are brewing in ottawa this year for Halloween. Follow the link to find costume and event information.


Ottawa Storytelling Festival
November 15, 2012 to November 18, 2012
The annual Festival is the major storytelling event in Ottawa each year and features the very best tellers from the Ottawa area and across Canada.


New Year's Eve Ottawa
December 31, 2012
Visit the NYE section to see what is happening at the best clubs, live music venues and conference centres in the area.


Winterlude Ottawa
February 1 to 18, 2013

Every February, Canada's Capital Region is host to Winterlude, North America's greatest winter festival. Three fun-filled weekends of excitement and activity await the whole family! From spectacular ice carvings to an amazing playground made of snow, Winterlude is a great way to take in the best of our Canadian winter.


Giovanni's Presents Wreck MMA 2.0
March 28, 2013
Casino du Lac Lemay

Due to popular demand, Wreck MMA is coming back to the Ottawa region on March 28th!! The region's top MMA promotion has decided to return and there will be another exciting event at the Hilton Lac Leamy in Gatineau. Featured on the card is Ottawa's first UFC fighter, Mark 'Boots' Holst and Ottawa's own 'Relentless' Randy Turner in what may be his last fight before heading to the UFC.