Salon Rouge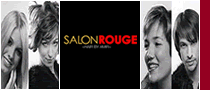 Welcome to the Ottawa Entertainment.ca Hair Salon and Spa Section. Browse throug our listings and treat yourself. You deserve it.



Salon Rouge
222 Dalhousie Street
(613) 241-1110


Salon Rouge, is among the most fashionable and trendy Salons in Ottawa, located in the growing district of Dalhousie North. With a mix of modern and classy chic, we pride ourselves on appealing to a variety of clientele.


Saab Hair Salon and Spa
Strathcona Park

All of our stylists and aestheticians are committed professionals who work collaboratively to meet all your beauty needs. We constantly educate ourselves to stay at the cutting edge of hair and body care. As we are environmentally aware, we use and recommend natural hair and skincare products that are organically grown, whenever possible.


Textures Hair Salon
293 Dalhousie . Unit 101
(613) 241.8977
Texture offers a wide range of services for your all your hair care needs including specializing in colour corrections, foil highlights, geometric cuts and colours, hair extensions (including Great Lengths), and makeup application. If you are in the need for a makeover, a change, or even just a consultation, feel free to stop by to see one of our dynamic stylists today!


Silver Scissors
857 Bank Street
(613) 236-6408
Silver Scissors was first established as a unisex hair salon in the Ottawa Ontario region since 1979 by award winnin stylists Eli and Bruce Saikaley. Trained in Los Angeles, New York, Barcelona, Miami, Spain and Toronto, Eli, Bruce and the entire staff at Silver Scissors.


Fernando Cellini Hair Salon
481 Sussex Drive
(613) 241-7080
Fernando Cellini Hair Salon brings together some of the most talented and technically skilled stylists and colorists in Ottawa. Located in the heart of the By Ward Market on, Sussex Drive, Fernando Cellini is a boutique hair salon that provides a comfortable and relaxing stage for a growing number of "in the know" clients.


York Street Spa
11 York Street
(613) 562-2121
The York Street Spa, a new 6,000 square foot, three-floor complex in the Byward Market's core, offers a grand array of services aimed at pampering and nourishing your soul.


Holtz Spa
45 Rideau St. 2nd floor
(613) 241-7770
Sacred sounds and enticing aromas invite you to leave your stress at the door. The luxurious Holtz Spa offers total health and wellness with holistic treatments designed to create harmony of body, mind and spirit.