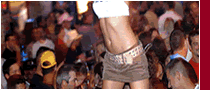 Ottawa Entertainment is Ottawa's Number 1 guide for information. Ottawa Nightclubs, Events, Clubs, Bars and Ottawa nightlife.





Real Sports Bar and Grill
90 George Street
(613) 680-7325
Now Open in the Byward Market, Ottawa. With a 25 ft HD TV, nearly 100 beers on tap, and upscale menu; It's the ultimate sports bar experience.


Baylon
317 Bank Street
(613) 594.0003
Downtown live music nightclub. Showcasing unique events and weekly parties that make it stand out and above the rest.


Barrymores's Music Hall
323 Bank Street, Ottawa
(613) 233-0307
Barrymore's is Ottawa's premiere live music club. Originally built in 1914 as a Vaudeville theatre. Through the years it has played host to loads of up and coming acts as well as some of the most established bands around. Both nationally and international bands have performed on our stage.


Club Addiction
17 Promenade de Portage, Gatineau
819-771-6677
The hottest place to party every Friday & Saturday: 2 for 1 drinks before 11PM - Doors open at 9PM and no cover before 10PM - Guest DJ's on special occasions - Available Bottle Service - Avoid line up and arrive early.


Cornerstone bar and Grill
92 Clarence street
The perfect meeting spot for all your business luncheons, dinners and meetings. A great location to meet friends and colleagues after a long day at work.


Earl of Sussex
431 Sussex Drive
(613) 317-1866
The Earl of Sussex has been operating at the corner of Sussex Drive and Murray Street in the ByWard Market for over thirty years. We are located directly across from the U.N Peace Memorial, The National Art Gallery and The U.S. Embassy.


Parliament Pub
101 Sparks Street
(613) 563-0636
Located directly opposite the Peace Tower on Wellington St. with another entrance at 101 Sparks St., the Parliament Pub is an inviting spot for lunch and dinner where good food, fine beverages, and good conversation are sure to be had.



Patty Boland's
101 Clarence Street
(613) 789-7822
Patty Boland's is the Byward Market's pub for all ages, featuring both Irish fare and contemporary cuisine in a hand-crafted interior decorated with antiques, iron works and five fireplaces, designed by Anne Browne.


Pub 101
101 York Street
This three-level pub with a street front patio located in the heart of the Byward Market. The second floor provides a comfortable environment to watch 'the game' and the third floor is great for private events of 20- 80 people with a dance floor and private washrooms. Full menu available.


The Great Canadian Cabin
95 York St
This Canadiana cabin style bar has large TV screens, leather couches, a large dance floor, a rec-room style basement, and two patios. The large basement, with private access, can accommodate large groups.


The Liquor Store
130 York Street
Ottawa, ON
This venue brings fun times to the well heeled party set on the weekends and then delivers good times to industry types Sunday & Tuesday.

Tailgators
1642 Merivale Road
(613)224-0249

With over 35 LCD Screens & 2 Giant 22ft HDTV Screens playing every game and event, 43 Pool Tables, 2 Indoor Golf Simulators, 6 Foosball Tables, Ottawa's Largest Pool Leagues, a delicious menu of modern twists on some old favorites, Tailgators has something for everyone!


The Whiskey Bar
110 York street
An open urban 'chalet style' club with modern deep brown interior, booth seating and hardwood floors. Features a contemporary lounge area highlighted by a stone-faced fireplace and leather couches arranged for intimate group seating. Wall to wall windows open to provide an open-air patio atmosphere and a spacious dance floor that can also provide staging opportunities.


Zaphod's
27 York Street
(613) 562-1010
Zaphod Beeblebrox, the original pub at the edge of the universe, is an intimate live music venue and dance club. Home of the world famous Pan Galactic Gargleblaster and other such exotic galactic cocktails, the nightclub has played host to an eclectic mix of performers, including Alanis Morrissette, Cracker, Afghan Whigs, Ashley MacIsaac, Mzwake Mbuli and countless others.