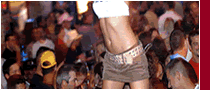 The weekly mailing list is 1 e-mail per week and contains weekly event entertainment information and the opportunity to win tickets. Check your inbox every Monday morning.


Click here to join our e-mail list . You can also subscribe to our Twitter and Facebook pages to receive the information.

Ottawa - In Ottawa This Week - Ottawa Entertainment.Ca Click on the links below to see this week's events.