Calypso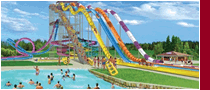 Welcome to the Ottawa Entertainment.ca family Entertainment section. Browse through family entertainment venues and activities.



Geo Race
Create, Race and Have Fun. Geo Race is a one of kind app that allows you to create races, treasure hunts, quizzes, riddles, check in circuits, geo caches, training circuits and more… For you, your friends or for the public to enjoy. All within this free app.
Check out the Free Winterlude Race click go for more information


Calypso Waterpark
2015 Calypso Street, Limoges Ont.

Calypso Theme Waterpark is the biggest Waterpark in Canada. We have spread water fun everywhere on this extensive 100 acres facility. From toddlers to teenagers to party dudes to grandma & grandpa, everyone will have its fair share of fun in this gem of a park.


Mont Cascades Waterpark
448 Mont Cascades Rd., Cantley, Quebec, J8V 3B2
(819) 827-0301

Mont Cascades Resort Waterpark offers great, clean family fun all summer long. World-class water rides, water play areas and full food and beverage services make Mont Cascades Resort Waterpark a great place for the family to cool down and have fun.


Cosmic Adventures
1373 Ogilvie Road
613-742-8989
Kids need space, and Cosmic Adventures has plenty of it! Ottawa's largest and safest indoor playground encourages kids 0-12 to crawl, bounce, slide and explore our clean and secure environment. Cosmic provides the ideal location for safe indoor play, amazing birthday memories, group activities, corporate parties, fundraising and more. Cosmic Adventures- Our Space Knows No Boundaries


Fun Junction Gatineau
779 Maloney Est Gatineau
(819) 893-5683
Challenge your friends to a frag-fest or race
on many different gaming stations!


Little Ray's Reptile Zoo
5305 Bank St.
(613) 822-8924
Little Ray's Reptile Zoo takes you on a trip around the world like no other. We start in South America, travel to North America, Africa, Australia, Indonesia, and finally finish up in South-East Asia. Along the way you can expect to see animals few people have an opportunity to see in their lifetime.


Midway Family Fun Park
2477 Kaladar Ave.
(613) 526-0343
At Midway, the parking is free and the thrills are guaranteed. If you enjoy seeing children smiling and laughing with glee, then Midway Family Fun Park is the place for you. And with more fun than fits into a single day, you'll want to visit us again and again!.

The Mud Oven
1065 Bank Street (at Sunnyside)
(613) 730-0814
We are a contemporary ceramics studio where you can create personalized pieces of pottery for special occasions, gifts and decorative use. The creative impulse exists in all of us.


Putting Edge Fun Centers
Compusmart Centre 5 Roydon Place, Unit 1, Nepean
(613) 224-4887
Experience the EXCITEMENT of 18 holes of GLOW-IN-THE-DARK mini golf at its best; challenge yourself in a wide variety of interactive arcades; or just sit back and enjoy the music.


Mini Putt Gatineau
205 La Gappe
(819) 561-0427
A Mini Putt for all ages. With 2 challenging courses offered: the mini and the maxi you can spend a whole afternoon on the mini links.


Saunders Farm
Munster,Ontario
(613) 838-5440
Saunders Farm is 100 acres of FUN in Munster, located just a short distance southwest of downtown Ottawa. Historic log buildings, stone fireplaces, beautifully landscaped gardens, natural ponds two hilltop Gazebos and a rustic Pavilion combine to make a truly unique experience.


Haunted Walk of Ottawa
Sparks & Elgin street
(613) 232-0344
Now entering our 8th season, The Haunted Walk is Ottawa's most popular walking tour company. Locals and newcomers alike are fascinated by these glimpses into the darker history and haunting of the Nation's Capital.


Walkley Bowling Centre
2092 Walkley Blvd.
(613) 521-0132
Located in Ottawa, Ontario at 2092 Walkley Road, Walkley Bowl offers all ages entertainment that's guaranteed to please. From our 30 computerized scoring 5-pin bowling lanes to our fully licensed sports bar and restaurant, everything you'll need for a great time is within reach at the Walkley Bowl.