Kinki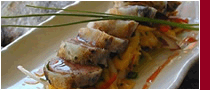 Welcome to the Ottawa Entertainment.ca restaurant section. Here you will find restaurants, dress code tips and dining suggestions for the Ottawa area. From trendy to chique, Ottawa has it all.




Kinki
41 York Street
(613) 789.7559
Welcome to the Kinki Lounge Kitchen Located in the heart of the historic Byward Market, we are Ottawa's premier restaurant destination for great food, spirits, and fun! Our menu features a wide variety of delights to suit every palette, Including Sushi, Steaks, Tapas, Craft Cocktails, Local Beers, and much more… Each night our lounge will strive to feature a variety of Ottawa / Gatineau's best entertainment such as Dj's, Live Musicians, Dancers, Comics, and more… Our cutting edge décor will surprise and inspire. In the summer tourism season we host a beautiful patio just minutes away from Parliament Hill. So come on down and pay us a visit - our fun and friendly staff awaits you!


Real Sports Bar and Grill
90 George Street
(613) 680-7325
Now Open in the Byward Market, Ottawa. With a 25 ft HD TV, nearly 100 beers on tap, and upscale menu; It's the ultimate sports bar experience.


222 Lyon Tapas Bar
222 Lyon Street
(613) 238-0222
At 222 Lyon, better known as the Tapas Bar, we feature a wide variety of 'tapas' a Spanish word for appetizers or snacks. Tapas are perfect for sharing with groups or provide more intimacy for a table of 2.


Absinthe Cafe
1208 Wellington Street West
(613) 761-1138
Established in 2003, Absinthe, is renowned for it's commitment to fine food. The restaurant is a modern bistro, using locally sourced ingredients, prepared in an inventive and sophisticated manner.


Aroma Meze
239 Nepean Street
(613) 232-1377
Welcome to Aroma Meze Small Plates and Wine. The first of its kind in Canada! Come and enjoy "Meze" the food that reflects the way of life in Greek culture. Meze…an eating style, ancient in origin, favored in Greece and the Mediterranean. It is where eating is a hospitality and a celebration. The word "Aroma" literally means spice in Greek.


Aulde Dubliner Pourhouse
62 William Street
(613) 241.0066
The Aulde Dubliner/Pourhouse is an authentic two-storey, Irish-style pub that offers lunch, dinner and a late night menu served seven days a week. With breakfast on weekends, a prime view of the ByWard Market, and live entertainment at night in the Pour House upstairs, there's no shortage of ways to celebrate Irish culture.


The Black Thorn
15 Clarence St.
(613) 241 0712
Chef Peter Harris emphasizes fresh, local ingredients, and the menu includes creative appetizers, pastas, pizza, as well as the chef's own chicken, beef, and lamb dishes. Choose from 15 imported beers on tap, or try one of the many cocktails and martinis available


Banc Sushi
919 Montreal Road
613 749 0943
Banc Sushi is a trendy, contemporary Japanese Bistro located at 919 Montreal Road. We are known throughout Ottawa's east end area for our fresh and creative Sushi Rolls and Sashimi and don't forget the all you can eat option.


Bento Sushi
606 Rideau St
(613) 562-2563
Bento Sushi for great tasting and authentic Japanese food. All items on the menu are made only using the freshest & finest ingredients to bring you the very best. Bento Sushi also offers combos, meals specials and a catering menu.


Bay Street Bistro
160 Bay St. at Albert St.
(613) 234-1111
Hungry for lunch? Try the all-u-can eat Italian Feast of pastas, pizza and salad... or the Sunday Brunch featuring delicious Prime Rib and much more!...
Drop by for a cocktail in the Bistro's comfortable bar...


B Side Wine
323 Somerset St West
(613) 686-3893
Unable to curb his creativity, chef Derek Benitz has opened b/Side Wine & Small Plates located directly beside Benitz Bistro. Join us for a great glass of wine and delicious food!


Benitz Bistro
327 Somerset St. West
(613) 567.8100
Harmony, balance, instinct, passion and an infusion of soul–this is the essence of Chef/Owner Derek Benitz's attitude in the kitchen. He takes a contemporary approach to classic French cuisine, crafting innovative dishes from the freshest seasonal ingredients.


Biagio's Italian Kitchen
1394 Richmond Road
(613) 828-0770
Biagio's proudly opened its doors in December of 1999. Our menu was created to provide an 'al momento' cooking philosophy which means each pasta, pizza and entrée is prepared individually to order. We take pride in our home-made pasta, hand rolled pizzas and fresh selection of grilled meats and fish.


Canvas
65 Holland Avenue
(613) 729-1991
Located within walking distance of art galleries and the Great Canadian Theatre Company, the Parkdale Market, and various other hidden gems, Canvas prides itself in being an inviting little neighbourhood bistro in the ever growing Wellington West area of Ottawa.


Capital Dining Room
361 Queen Street
(613) 238-2582
The Capital Dining Room, long established as one of the top restaurant in the city, is the first choice for any special celebration. The intimate setting and ambiance is elegant and the food is paired with the best wines a Four Diamond Restaurant can offer.


Carmello's
300 Sparks Street
(613) 563.4349
Exciting and creative contemporary Italian cuisine is prepared in this lovely trattoria with services that is unmatched in the city. Fresh Pasta's, thin crust Pizza, grilled vegetables, and grilled fish and meats abound on the stylish menu. A selection of ten micro-brewed draft beers is featured along with a fabulous Italian wine list from their special wine cellar.


Dantessa Italian Restaurant
131 Cooper Street
(613) 239-3137
At Dantessa we are very proud of our formula. Our aim is to create exciting, inspired, contemporary Italian cuisine in a warm and sophisticated setting. Conveniently located right around the corner from Elgin Street, Dantessa offers delectable fare that is surprisingly reasonable.


Chianti Ristorante Italiano
160 Metcalf Street
(613) 321 4623
We are very pleased to introduce our sensational menu.We have selected the finest ingredients to enhance the flavour and taste of homemade meals. At Chianti we offer not only fine cuisine, but above all, healthy ingredients are our number one priority!


Coasters
54 York Street Byward Market
(613) 241-4954
Dine in casual elegance, fresh fish and seafood with a spectacular view of the Byward Market. A warm & friendly seafood grill menu ranges from fresh fish on a open grill to the best fish & chips in town. All you can eat Mussels everyday $12.99, shrimp, scallops and our signature crab cakes are a constant favorite.


Courtyard Restaurant
21 George St.
(613) 241-1516
Our chef blends continental fare with the finest in contemporary tastes, creating delectable menus that are designed to bring out the best in every flavour. House specialties include Beef Tenderloin Wellington and Rack of Lamb, as well as a wide range of Steak, Seafood, Pork and Chicken dishes.


Cyranos
39 Robertson Rd
(613) 721-0510
Located in Ottawa's West End, Cyranos is a unique, chef owned restaurant offering modern Italian and Mediterranean cuisine. The menu offers something for everyone from light salads and pizzas to fresh pastas, seafood and steak. At Cyranos, every meal is made per order to meet your specific needs.

Da Sergio
338 Preston St
(613) 230-3652
Nestled in the heart of "Little Italy" Ristorante Da Sergio offers an intimate and unique dining experience. The menu is large and includes both traditional & nouveau Italian dishes. For those with more adventurous palates, our chefs prepare daily creations that always include a fresh catch of the day.


Denny's Ottawa
2208 Bank Street
(613) 731-4828
Open 24 hours a day. With the pictured menu families can easily decide on something to suit every taste. Coffee, tea and soft drinks are all refilled free of charge and breakfast is served around the clock. Denny's also offers a special seniors menu with slightly reduced portions for guests over 55 years of age.


E18hteen Restaurant
18 York Street
(613) 244-1188
Our kitchen is the soul of our restaurant. Our menu reflects engaging flavour profiles and the changing seasons. We partner with dedicated purveyors in supplying the absolute best from our natural environment. Our wine directors source elite wines in every price category to enhance your dining experience.


Elgin Street Diner
374 Elgin Street
(613) 237-9700
The Elgin Street Diner is a 24-hour restaurant that serves up breakfast all day and all night. But breakfast isn't their only speciality. Sandwiches, burgers, main courses, milkshakes and desserts are also listed on the extensive menu.


Fatboys Southern Smokehouse
34 Murray Street
(613) 695-5599
Ottawa has finally come of barbecue age with a genuine smoke houses offering the Real McCoy in the ByWard Market. Fatboys Southern Smokehouse offers southern comfort food with a bbq flair. From pulled pork to ribs this one you shouldn't miss.


Fresco Guest Room
354 Elgin Street
(613) 235-7541
Open until 2am, the hybrid kitchen-bar is a hub of activity inviting you to chill out, settle in and take pleasure in a bite or two with wine. A simple and creative small-plate/ charcuterie menu sans pretension has been lovingly designed by Chef Steve Vardy and resident Chef Brent Pattee and is available after 10:00 pm. seven days a week.



Festival Japan
149 Kent Street
(613) 234-1224
Come experience the best sushi in Ottawa and other Japanese dishes at Festival Japan. Join us for a speedy lunch in front of the sushi bar or an intimate dinner in one of Festival Japan's tatami rooms


Graffiti's Italian Eatery & Saloon
101 Kanata Avenue
(613) 271-0921
Featuring modern Italian cuisine – complemented with locally grown fresh ingredients from our Savour Ottawa partners – Graffiti's® offers a variety of "Venetian inspired" menu selections, both new and old favorites, including our clay oven fired gourmet pizzas and focaccia flatbreads, tantalizing pastas, plus a full range of entrées, including Black Angus beef selections "hot off the grill". Graffiti's is perfect for special occasions or meeting friends and colleagues for breakfast, lunch and dinner


The Grand Pizzeria
74 George St
(613) 244-9995
Combining old world traditional recipes with a modern décor, is an authentic southern Italian Restaurant with the centerpiece being traditional Napoletana Pizza from Naples, Italy, cooked in a specially constructed wood burning oven.


The Green Door
198 Main St
(613) 234-9597
The Green Door Restaurant is Ottawa's oldest and best known vegetarian restaurant. We specialize in high quality foods and baked goods made from ingredients that are locally grown and produced. We are located downtown with access to plenty of parking.



Green Papaya
246 Queen Street
(613) 231-8424
At the Green Papaya Restaurant, taste the finest in Classic Thai cuisine! Our finely decorated dining room offers a relaxing, smoke-free environment all year round, while our cozy patio beckons during the warm months. Enjoy a wide range of authentic Thai dishes that are perfect for sharing with that special someone or a group of great friends.


Hard Rock Cafe Ottawa
73 York St.Ottawa.
(613) 241-2442
Drop in to recharge after a day spent carousing nearby parks and gardens, visiting the past at Ottawa's quaint downtown farm, working out on the bicycle and jogging paths, shopping at the many trendy boutiques, vegetable buying at the open-air market, or simply strolling about and touring the national museums. One look at Hard Rock Ottawa and we guarantee you'll be hooked! Stop by and see why we're putting Ottawa on the map.


Il Primo
371 Preston Street
(613) 234-6858
Il Primo is an Italian restaurant like no other on Preston The staff are excellent and very efficient. The food is generous and delightful in taste and presentation. Highly recommended for casual diners.


Juniper Kitchen and Wine Bar
245 Richmond Road
613-728-0220
Juniper Kitchen and Wine Bar strives to create globally inspired tastes which tempt and delight the palate. We offer a seasonally inspired menu, reflecting the produce harvested in this region.


Restaurant Joy
315 Somerset West
(613) 231-6333
For a truly authentic asian experience come down to Restaurant Joy, a friendly family atmosphere you will want to experience over and over again. Plus don't forget to check out our Happy Time Special on Monday and Tuesday.


La Strada
697 Bank St
(613) 567-2066
Passion, Dedication, Success.... A Family tradition dating back 50 years. Pietro Militio with his three sons pride themselves in offering their patrons exceptional Italian cuisine as well as an extensive selection of wines to ensure our most memorable dining experience.



Lindenhof European Restaurant
268 Preston St.
(613) 725-3481
Welcome to the Lindenhof European restaurant! We have been a part of the Ottawa dining scene for thirty years and believe that our success is built on consistently good, home-cooked food and friendly staff.


Mamma Grazzi's Kitchen
25 George St.
(613) 241-8656
Old World Italian cuisine is featured, with chicken and veal dishes complementing the wide variety of thin-crust pizzas and fresh pasta dishes.


Metropolitain Brasserie
700 Sussex Dr.
(613) 562-1160
For hundreds of years, Parisians and tourists alike have flocked to the great brasseries of Paris. Now, in the heart of Ottawa, is the city's own French Brasserie with the city's largest fresh oyster bar. Featuring fresh oysters sxsand daily creations from Chef de Cuisine Mike Poliquin, there is something for everyone at Metropolitain Brasserie.


Mexicali Rosa's
33 Clarence Street
(613) 789-1578
Located in Ottawa's Byward Market, this California Style Mexican Restaurant continues to serve the flavors that have made us a local landmark since 1977. Traditional decorations frame a quaint atmosphere where you can enjoy your favorite dishes, whether you are out for a quick lunch or a relaxed diner with your Family.


Milestones
700 Sussex Dr
(613) 789-5432
At Milestones, enjoy the intimacy of the dining experience in the comfort of warm lighting and a cozy booth, or the buzz in the bar, watching the game on one of our many flat-screens with a cold pint in hand.



Moji Fusion Kitchen
97 Clarence Street
(613) 860 6654
Located in the center of the Byward Market on 97 Clarence Street in downtown Ottawa, Ontario. Moji Fusion Kitchen Specialises in Italian fusion cuisine.


Perkins
1130 St Laurent Blvd
(613) 747-9190
Since 1958, when Matt and Ivan Perkins opened the first Perkins Pancake House in Cincinnati, Ohio, we've stood for value, quality and authentic food at affordable prices. While our reputation was built on delicious breakfast fare, our menu now encompasses all dayparts and offers the greatest variety in our segment. By staying in tune with trends, markets and technology, we've evolved our business through numerous cycles, from the Woodstock generation to the Internet generation.


Taste Of Japan
3710 Richmond Road
(613) 721-7675
This Restaurant - our dream of many years - represents a devoted effort to recreate a truly authentic corner of japan giving Bells Corners it's first classical Japanese Restaurant.The preperation and presentation of traditional Japanese cuisine is deeply connected to the aesthetics, philosophy and way of life in the islands of Japan.


Sante Restaurant Ottawa
45 Rideau Street
(613) 241-7113
Cosmopolitan yet casual with a fabulous view of Ottawa's famous Rideau and Sussex streetscapes. Our superb "globally inspired" cuisine, fine wines, and warm, friendly atmosphere make any occasion a success. For business or pleasure, large gatherings to intimate groups we would be pleased if you would be our guest.


Social
537 Sussex Dive
(613) 789-7355
For business or pleasure, Social's distinctive architecture and interior decor make everything from large business functions to intimate gatherings a possibility. Professional, fun and discreet, the staff is welcoming and pleased to assist in making your occasion a delightful and rewarding experience. Late evening entertainment is available Wednesday offering an eclectic mix of jazz, acid jazz and blues and on the weekends a variety of DJ's are spinning the crowd into a groove. Food, wine, atmosphere, pleasure...Social.


Summerhays Grill
1971 Baseline Rd
(613) 228-6049
Summerhays Grill opened in 2000 and has been a community favourite ever since. We're pleased to be open 365 days a year and offer breakfast, lunch & dinner. We have a 250 seat capacity and look forward to serving you soon. Groups and teams are welcome!



Stella Osteria
81-B Clarence Street
(613) 241-2200
Stella's new world Italian flare cuisine calls for a dynamic wine selection. They will offer an extensive wine list that showcases several varietals from Italy's diverse wine regions, as well as other, quality international selections. Cin Cin!


The Mongolian Village
150, Robertson Road, Ottawa
(613) 596-4366
The way it works is that you choose from many different types of ingredients to make your own meal. Than you add your sauces and have it cooked the traditional Mongolian way. Your meal will priced by weight with a minimum charge of 5.99$ and for children 3.99$. And for all you vegetarians, you will receive a special 20% discount.


The Fish Market
54 York St Byward Market.
(613) 241-3474
The Fish Market Restaurant is located in the heart of the bustling Byward Market in a rustic Canadian heritage building built in 1875. The warm ambiance and cozy booths are enjoyed with an extensive menu of Fresh Fish, Canadian lobster, mussels, shrimp scallops and everything between.


Sushi Kan
1280 Baseline Road
(613) 221-9545
1900 Innes Road
(613) 746-8900
All you can eat sushi in a commercial chain type restaurant. Sushi is meant to be an art form, and the more effort that has gone into the presentation, the better it is considered to be. When your sushi arrives at the table, take a moment to appreciate its appearance. Presentation is more important with sushi than with almost any other type of cuisine; it is meant to be a meal for the eyes as well as the mouth.


Topkapi Turkish Restaurant
484 Preston St
(613) 230-8828
Some 32 years later, Raif's son Nail, buys an existing restaurant and renames it Topkapi, realizing his own dream, as well as reviving his father's memories and dreams. We thank you for choosing the new Topkapi Restaurant and providing us with an opportunity to pamper you with our Turkish hospitality.


The Prescott
379 Preston Street
(613) 232-4217
An Ottawa favorite since 1934! Whether you are looking for a delicious, quick lunch or a more intimate dining experience; a night out with entertainment or to celebrate a special event, The Prescott is here to serve you.


Tucker's Marketplace
61 York Street
(613) 241-6525
You'll feel it when you experience our unique atmosphere. An authentic neighborhood market with various "shops" to choose from including The Corner Baker, The Stock Market, The Wheat Board, The Green Grocer, The CookStove, and Carvery & Co.


Urban Pear
151 Second Ave
(613) 569-9305
The restaurant features a menu that evolves from day to day using the finest quality local ingredients the chefs can source. During the summer months, a team of dedicated organic farmers supply The Urban Pear with all of its vegetables. All the meats & fish purchased by the chefs come from Canadian farms & waters.


Vineyards
54 York Street Byward Market
(613) 241-4270
Low ceilings, dim lighting and private, cozy booths all contribute to the wine-cellar feel of Vineyards. With live jazz on Tuesday, Wednesday and Sunday evenings, Vineyards is a great date spot. Vineyards offers an awe-inspiring wine list, featuring approximately 300 wines, as well as premium scotches, brandies and ports; their vast beer assortment features 60 Belgian beers alone.


Vittoria Trattoria
35 William St.
(613) 789-8959
The William Street restaurant offers a wide range of rooms and services to host all kinds of intimate events/groups from 2-50 people. Custom menus, satellite bars and an impressive wine selection are merely a few of the particulars that can be coordinated to suit your entire group dining needs. The convenient downtown location also makes it ideal for cocktail/office parties, wedding brunches, anniversaries and much more.


Wasabi Japanese Restaurant and Sushi Bar
41 Clarence St.
(613) 241-3636
Our dining room can accommodate your small groups or large parties comfortably, extending to the outdoor patio during the hot summer months. We offer an extensive array of authentic Japanese dishes from signature rolls and sushi to a variety of cooked dishes from our kitchen.


The Whalesbone Oyster House
430 Bank Street
(613) 231-8569
Aw, Shucks...Oysters and More...Oysters are the obvious choice here, served raw with different sauces and add-ons like lemon and horseradish. There are three to five types of east and west coast oysters to choose from, both small and large varieties and our selection changes daily. Oysters are the house specialty, but we've got plenty on the menu for seafood lovers who are squeamish about slurping the slippery bivalves straight from the shell.


Zak's Diner
16 Byward Market
(613) 241-2401
Milano Pizzeria has been serving great food in the Ottawa area since 1967. Made with only the best ingredients, everything we prepare is made fresh to order.


ZenKitchen
634 Somerset Street
(613) 233-6404
At ZenKitchen™, we believe that a gourmet meal can be created out of healthy and environmentally friendly foods. With a focus on whole foods prepared in a flavourful, healthful, manner, ZenKitchen demonstrates that food can be beautiful and good for you.



Zola's Restaurant
194 Robertson Rd, Nepean
(613) 721-0227
This fabulous restaurant on Robertson road will tend to your every need and will ensure that this will be a dinning experience that you will remember. From your table you can clearly see the chef assemble your choice of lunch or dinner from the freshest ingredients.


The Royal Buffet Restaurant
2446 Bank Street
(613) 738-7878
The Royal Buffet Restaurant welcomes you to enjoy the best that Oriental and Canadian cuisine has to offer. From the moment you enter our front door, we want you to feel like a member of our family. To us family is the foundation for all that we do. We want you, your friends, and your coworkers to feel like you are at home.


Emerald Buffet
33 Selkirk Street
(613) 749-2088
Emerald Buffet (previously known as Dubarry) is a Chinese Buffet has been located in the shopping plaza on Montreal Road at the Rideau River in Vanier. In addition to typical Chinese buffet fare, patrons will find a sushi counter, a Mongolian counter and many Western items.


Buffet Yangming
1547 Merivale Road
(613) 228-0840
The Buffet offers Canadian Chinese food. This restaurant is impressive with its selection: typical Canadian Chinese food (fried rice, chicken balls, etc) and more exotic fare. The price is quite inexpensive considering it is a buffet. The quality of the food is quite high, as well.


Banco - Casino du Lac Leamy
1, boulevard du Casino
(819) 772-2100
One of the best buffet's in the region, a must see, Excellent price, better if you have a privilege card offered for free by the casino.


Rideau Carleton Raceway
4837 Albion Road
(613) 822-2211
Our 650 seat dining room overlooks Canada's fastest 5/8th mile track, the perfect place to enjoy the panoramic view of the race track and cheer on your favourite horse and driver. Prepare to tantalize your taste buds with our marvelous all-you-can-eat 100 item buffet or wonderful a la carte menu.


Le Saint-O
327 St-Laurent Blvd
(613) 749.9703
Le restaurant "Le Saint-Ô" est un restaurant de fine cuisine française établi à Ottawa depuis 1990. "Le Saint-Ô" est reconnu par ses pairs comme un restaurant offrant un service digne des grands restaurants parisiens et du sud de la France et par une cuisine aussi savoureuse que spectaculaire créée par l'imaginatif chef propriétaire.


Mezzanotte Bistro
50 Murray Street
(613) 562 3978
Nestled in the heart of the Byward market, Mezzanotte specializes in delicious Italian cuisine served with a twist of originality. The lamb, the veal and the Chilean sea bass are customers' favourites, and are complimented by an extensive wine list from around the world. Enjoy your meal on the patio throughout the summer.



Wellington Gastropub
1325 Wellington Street
(613) 729-1315
The term is derived from gastronomy and was coined in when the first Gastropub, The Eagle, was open in London, England. Gastropub always have an atmosphere which is relaxed and a focus on offering an eclectic menu, prepared to the highest standards of the best restaurants.