National Arts Centre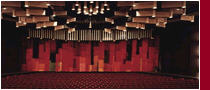 Welcome to the Ottawa Entertainment.ca Live Theatre Section. You will find local and national theatres and events for the Ottawa Area.



National Arts Centre
53 Elgin Street, Ottawa
(613) 947-7000


The National Arts Centre is Canada's pre-eminent showcase for the performing arts and the catalyst for the performing arts nationally. Come and experience Canada's best Theartre, Dance and Music. Performances run year round and attract audiences both from the National Capital Region and from around the world.


Centrepointe Theatre
101 Centrepointe Drive
613-580-2700

Centrepointe Theatre's mandate is to encourage the development of the performing arts by providing facilities and services, and to entertain and enlighten audiences by presenting Canadian and international artists and attractions.


Odyssey Theatre
Strathcona Park

Odyssey Theatre is thrilled to announce the premier season of our EXPLORATIONS series of workshops. Don't miss this once in a lifetime opportunity to work with internationally renowned choreographer Ravibandhu Vidyapathy and drummer Prasanna Rupatillake.


Kanata Theatre
1 Ron Maslin Way
613-831-4435
There are now about 250 members, who put on five main-stage plays and a children's holiday play each year. In any one year, there may be additional productions for training or experimental purposes. Members receive a newsletter giving information about Kanata Theatre activities and the times and places of general meetings and of auditions.


The Gladstone
910 Gladstone Avenue
613.233.4523
The face of theatre in Ottawa is changing and the excitement is palpable. More specifically, the face of the old theatre at 910 Gladstone has undergone a remarkable facelift. Get ready to 'Experience Theatre' like never before. See you on opening night, and every night after!"


Great Canadian Theatre Company
1233 Wellington Street West
(613) 236-5196
GCTC is committed to the production of new Canadian work and artist development. We continue to commission and workshop new plays by emerging and established playwrights. We mentor emerging theatre companies through the development of new productions.