Amanda Rheaume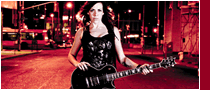 Welcome to the Ottawa Entertainment.ca Local Artists Section. Here you will find amateur and professional talent for the Ottawa Area.



Diamond
Hip Hop
Caalvin Jno-Finn (mgmt) (613)-291-4124



Diamond is highly fortunate for the career changing opportunities that have risen through out his life, but also those of life through out his career. He has truly been blessed with the opportunity to meet and connect with so many talented artists, whether collaboratively on music and sharing a stage,


Amanda Rheaume
amandarheaume.com

"Rheaume has an undeniably powerful voice that fits perfectly with her self-written material, or any other song she chooses to perform. Like a light switch, Rheaume can go from a bright comforting harmony to a dark hard edge at the crowd's request." - Capital Xtra


Submit your Local Artist Listing
We have automated the submission process via our whatsupottawa.com sister site. Please submit your listings via the link below.