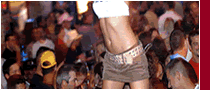 Welcome to the Ottawa Entertainment.ca Byward Market Nightclub and bar section. Browse through bar and nightclub listings with images and events.





Real Sports Bar and Grill
90 George Street
(613) 680-7325
Now Open in the Byward Market, Ottawa. With a 25 ft HD TV, nearly 100 beers on tap, and upscale menu; It's the ultimate sports bar experience.


Club Caliente
110 York Street
(613) 562-0698
Ottawa's #1 Latin Nightclub. Free Dance Lessons Thursdays And Fridays From 8pm to 10 PM Everyone is welcome!


Cornerstone bar and Grill
92 Clarence street
The perfect meeting spot for all your business luncheons, dinners and meetings. A great location to meet friends and colleagues after a long day at work.


Earl of Sussex
431 Sussex Drive
(613) 317-1866
The Earl of Sussex has been operating at the corner of Sussex Drive and Murray Street in the ByWard Market for over thirty years. We are located directly across from the U.N Peace Memorial, The National Art Gallery and The U.S. Embassy.


Patty Bowland's
101 Clarence Street
(613) 789-7822
Patty Boland's is the Byward Market's pub for all ages, featuring both Irish fare and contemporary cuisine in a hand-crafted interior decorated with antiques, iron works and five fireplaces, designed by Anne Browne.


Pier 21
111 Parent Street
A touch of Nova Scotia in the heart of the Byward Market. Open 7 days a week for lunch and dinner stop by and experience home cooking from our wonderful chef. Every Thursday, Friday and Saturday night check out our variety of live entertainment. This large open concept restaurant/ bar is a great spot for large corporate functions


Pub 101
101 York Street
This three-level pub with a street front patio located in the heart of the Byward Market. The second floor provides a comfortable environment to watch 'the game' and the third floor is great for private events of 20- 80 people with a dance floor and private washrooms. Full menu available.


Sotto Bar And Lounge
295 Dalhousie Street
(613) 241-3696
Status and prestige await guests at Sotto Bar & Lounge, newest and most exclusive venue in Ottawa. As you enter this exquisitely designed nightclub, the state of the art sound & light system of Sotto welcomes patrons to a nighttime fantasy.


Studio Nightclub
403 Dalhousie Street
(613) 223-3235
Featuring some of the most advanced nightclub innovations in North America, Studio features the first LED VIDEO LIGHTING SYSTEM of its kind in CANADA and also is the first nightclub in North America that boasts the new K ARRAY 50 system at this one of a kind hot spot.


The Great Canadian Cabin
95 York St
This Canadiana cabin style bar has large TV screens, leather couches, a large dance floor, a rec-room style basement, and two patios. The large basement, with private access, can accommodate large groups.


The Drink
130 George Street
A great place to plan any event or celebration in this versatile and modern open concept lounge. A warm interior, two VIP lounge areas and a front patio offer the perfect atmosphere to make your corporate dinner, product launch or presentation a success.


The Liquor Store
130 York Street
Ottawa, ON
This venue brings fun times to the well heeled party set on the weekends and then delivers good times to industry types Sunday & Tuesday.


Tila Tequila
104 Clarence Street
(613) 241-6581
Tila Tequila is the hottest nightclub in Ottawa with the biggest dance floor and the best music in the Nation's Capital.


The Whiskey Bar
110 York street
An open urban 'chalet style' club with modern deep brown interior, booth seating and hardwood floors. Features a contemporary lounge area highlighted by a stone-faced fireplace and leather couches arranged for intimate group seating. Wall to wall windows open to provide an open-air patio atmosphere and a spacious dance floor that can also provide staging opportunities.


Zaphod's
27 York Street
(613) 562-1010
Zaphod Beeblebrox, the original pub at the edge of the universe, is an intimate live music venue and dance club. Home of the world famous Pan Galactic Gargleblaster and other such exotic galactic cocktails, the nightclub has played host to an eclectic mix of performers, including Alanis Morrissette, Cracker, Afghan Whigs, Ashley MacIsaac, Mzwake Mbuli and countless others.