Kinki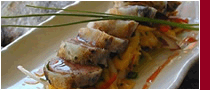 Welcome to the Ottawa Entertainment.ca Ottawa South fine dining restaurant section. Here you will find restaurants, dress code tips and dining suggestions for Ottawa South.




The Whalesbone Oyster House
430 Bank Street
(613) 231-8569
Aw, Shucks...Oysters and More...Oysters are the obvious choice here, served raw with different sauces and add-ons like lemon and horseradish. There are three to five types of east and west coast oysters to choose from, both small and large varieties and our selection changes daily. Oysters are the house specialty, but we've got plenty on the menu for seafood lovers who are squeamish about slurping the slippery bivalves straight from the shell.


Rideau Carleton Raceway
4837 Albion Road
(613) 822-2211
Our 650 seat dining room overlooks Canada's fastest 5/8th mile track, the perfect place to enjoy the panoramic view of the race track and cheer on your favourite horse and driver. Prepare to tantalize your taste buds with our marvelous all-you-can-eat 100 item buffet or wonderful a la carte menu.