Kinki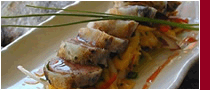 Welcome to the Ottawa Entertainment.ca Downtown Fine Dining restaurant section. Here you will find restaurants, dress code tips and dining suggestions for fine dining in downtown Ottawa area. From trendy to chique, Ottawa has it all.




222 Lyon Tapas Bar
222 Lyon Street
(613) 238-0222
At 222 Lyon, better known as the Tapas Bar, we feature a wide variety of 'tapas' a Spanish word for appetizers or snacks. Tapas are perfect for sharing with groups or provide more intimacy for a table of 2.


Aroma Meze
239 Nepean Street
(613) 232-1377
Welcome to Aroma Meze Small Plates and Wine. The first of its kind in Canada! Come and enjoy "Meze" the food that reflects the way of life in Greek culture. MezeÔÇŽan eating style, ancient in origin, favored in Greece and the Mediterranean. It is where eating is a hospitality and a celebration. The word "Aroma" literally means spice in Greek.


Beckta Dining & Wine
226 Nepean Street
(613) 238-7063

Our philosophy is based upon changing involved and sometimes intimidating culinary experiences into the comfortable and remarkable. We are committed to working with our many great suppliers to source the best and most flavourful ingredients possible.


B Side Wine
323 Somerset St West
(613) 686-3893
Unable to curb his creativity, chef Derek Benitz has opened b/Side Wine & Small Plates located directly beside Benitz Bistro. Join us for a great glass of wine and delicious food!


Benitz Bistro
327 Somerset St. West
(613) 567.8100
Harmony, balance, instinct, passion and an infusion of soul this is the essence of Chef/Owner Derek Benitz's attitude in the kitchen. He takes a contemporary approach to classic French cuisine, crafting innovative dishes from the freshest seasonal ingredients.


Cafe Paradiso
199 Bank Street
(613) 565-0657
What is most appealing about Cafe Paradiso is it's great blend of casual fine dinning and Ottawa┬┤s best, year-round live jazz program. Serving an eclectic bistro-style global cuisine, in a relaxed downtown atmosphere, the Caf├ę promises you a memorable evening of good food and lively entertainment.


Capital Dining Room
361 Queen Street
(613) 238-2582
The Capital Dining Room, long established as one of the top restaurant in the city, is the first choice for any special celebration. The intimate setting and ambiance is elegant and the food is paired with the best wines a Four Diamond Restaurant can offer.


Carmello's
300 Sparks Street
(613) 563.4349
Exciting and creative contemporary Italian cuisine is prepared in this lovely trattoria with services that is unmatched in the city. Fresh Pasta's, thin crust Pizza, grilled vegetables, and grilled fish and meats abound on the stylish menu. A selection of ten micro-brewed draft beers is featured along with a fabulous Italian wine list from their special wine cellar.


Dantessa Italian Restaurant
131 Cooper Street
(613) 239-3137
At Dantessa we are very proud of our formula. Our aim is to create exciting, inspired, contemporary Italian cuisine in a warm and sophisticated setting. Conveniently located right around the corner from Elgin Street, Dantessa offers delectable fare that is surprisingly reasonable.


Chianti Ristorante Italiano
160 Metcalf Street
(613) 321 4623
We are very pleased to introduce our sensational menu.We have selected the finest ingredients to enhance the flavour and taste of homemade meals. At Chianti we offer not only fine cuisine, but above all, healthy ingredients are our number one priority!


Festival Japan
149 Kent Street
(613) 234-1224
Come experience the best sushi in Ottawa and other Japanese dishes at Festival Japan. Join us for a speedy lunch in front of the sushi bar or an intimate dinner in one of Festival Japan's tatami rooms


Green Papaya
246 Queen Street
(613) 231-8424
At the Green Papaya Restaurant, taste the finest in Classic Thai cuisine! Our finely decorated dining room offers a relaxing, smoke-free environment all year round, while our cozy patio beckons during the warm months. Enjoy a wide range of authentic Thai dishes that are perfect for sharing with that special someone or a group of great friends.


Hy's Steak House
170 Queen Street
(613) 234-4545
Hy's Steakhouse is a Canadian institution. The Ottawa location is often praised as the one of the most beautiful steakhouses around. It has been serving power lunches and dinners for over 30 years, and is a place to rub shoulders with politicians and business leaders alike. Hy's "The Only" porterhouse is truly a thing to behold (and eat).


La Strada
697 Bank St
(613) 567-2066
Passion, Dedication, Success.... A Family tradition dating back 50 years. Pietro Militio with his three sons pride themselves in offering their patrons exceptional Italian cuisine as well as an extensive selection of wines to ensure our most memorable dining experience.



Metropolitain Brasserie
700 Sussex Dr.
(613) 562-1160
For hundreds of years, Parisians and tourists alike have flocked to the great brasseries of Paris. Now, in the heart of Ottawa, is the city's own French Brasserie with the city's largest fresh oyster bar. Featuring fresh oysters sxsand daily creations from Chef de Cuisine Mike Poliquin, there is something for everyone at Metropolitain Brasserie.


Milestones
700 Sussex Dr
(613) 789-5432
At Milestones, enjoy the intimacy of the dining experience in the comfort of warm lighting and a cozy booth, or the buzz in the bar, watching the game on one of our many flat-screens with a cold pint in hand.



Mekong
637 Somerset St. West
(613) 237-7717
Mekong Restaurant has been serving Asian Cuisine to Ottawa Residents for over 20 years. We Specialize in Cantonese, Szechwan, Vietnamese and Thai Foods Come try our Renowned Rice Paper Shrimp Rolls or one of our specialty dishes such as our Lobster and Shrimp with Ginger and Green Onion.


Sante Restaurant Ottawa
45 Rideau Street
(613) 241-7113
Cosmopolitan yet casual with a fabulous view of Ottawa's famous Rideau and Sussex streetscapes. Our superb "globally inspired" cuisine, fine wines, and warm, friendly atmosphere make any occasion a success. For business or pleasure, large gatherings to intimate groups we would be pleased if you would be our guest.


Social
537 Sussex Dive
(613) 789-7355
For business or pleasure, Social's distinctive architecture and interior decor make everything from large business functions to intimate gatherings a possibility. Professional, fun and discreet, the staff is welcoming and pleased to assist in making your occasion a delightful and rewarding experience. Late evening entertainment is available Wednesday offering an eclectic mix of jazz, acid jazz and blues and on the weekends a variety of DJ's are spinning the crowd into a groove. Food, wine, atmosphere, pleasure...Social.


Wellington Gastropub
1325 Wellington Street
(613) 729-1315
The term is derived from gastronomy and was coined in when the first Gastropub, The Eagle, was open in London, England. Gastropub always have an atmosphere which is relaxed and a focus on offering an eclectic menu, prepared to the highest standards of the best restaurants.


The Whalesbone Oyster House
430 Bank Street
(613) 231-8569
Aw, Shucks...Oysters and More...Oysters are the obvious choice here, served raw with different sauces and add-ons like lemon and horseradish. There are three to five types of east and west coast oysters to choose from, both small and large varieties and our selection changes daily. Oysters are the house specialty, but we've got plenty on the menu for seafood lovers who are squeamish about slurping the slippery bivalves straight from the shell.


ZenKitchen
634 Somerset Street
(613) 233-6404
At ZenKitchen, we believe that a gourmet meal can be created out of healthy and environmentally friendly foods. With a focus on whole foods prepared in a flavourful, healthful, manner, ZenKitchen demonstrates that food can be beautiful and good for you.