Barrymore's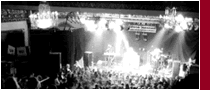 Ottawa Entertainment is Ottawa's NO.1 guide for information on live music in Ottawa, Browse through live music venues and music halls in the Ottawa Area.

Baylon
317 Bank Street
(613) 594.0003

Downtown live music nightclub. Showcasing unique events and weekly parties that make it stand out and above the rest.


Irene's Pub
885 Bank Street
(613)230-4474
Opened originally as Cap'n Pinkey's by Irene Corey in September of 1985, this iconic pub in The Glebe has been a spiritual home to artists and musicians for over a quarter of a century. Those years have seen the pub host live musical events, art showing and special gatherings for the community.


The Elmdale House Tavern
1084 Wellington St. W
(613) 728-2848
They sure don't make 'em like they used to. As one of the few remaining "real" taverns in Ottawa, The Elmdale House Tavern is one of those places that will remind you of a place long forgotten, the kind of place where you may walk in a stranger but will leave with solid friends.


Fatboys Southern Smokehouse
34 Murray Street
(613) 695-5599
Ottawa has finally come of barbecue age with a genuine smoke houses offering the Real McCoy in the ByWard Market. Fatboys Southern Smokehouse offers southern comfort food with a bbq flair. From pulled pork to ribs this one you shouldn't miss.


Barrymores's Music Hall
323 Bank Street, Ottawa
(613) 233-0307
Barrymore's is Ottawa's premiere live music club. Originally built in 1914 as a Vaudeville theatre. Through the years it has played host to loads of up and coming acts as well as some of the most established bands around. Both nationally and international bands have performed on our stage.


Black Sheep Inn
420 Riverside Drive, Wakefield
819-459-3228

We are a humble jukejoint divebar tavern in Wakefield Quebec (around 22 minutes from Ottawa - Canada's Capital city) we've been around for more than 13 years as a music venue although we started as a logger's tavern and roadhouse back in 1928.


Heart and Crown
67 Clarence St.
(613) 562 0674
The Irish Village, the ByWard Market's authentic Irish pub and restaurant, is the home of fine food, live entertainment, and charming ambiance. It is home to the now famous Heart & Crown Irish Pub and Restaurant.


Maverick's Bar
221 Rideau Street
(613) 562-3941


Maverick's is the only place in Ottawa that combines great music and reasonably priced drinks. Check out our facebook group and website to see upcoming events.


Rainbow Bistro
Ottawa's Home of the Blues
76 Murray at Parent
613-241-5123
Situated on the second floor of 76 Murray the Rainbow Bistro has earned it's reputation as
''Ottawa's Home of the Blues'' featuring live music every night of the week.



Pier 21
111 Parent Street
A touch of Nova Scotia in the heart of the Byward Market. Open 7 days a week for lunch and dinner stop by and experience home cooking from our wonderful chef. Every Thursday, Friday and Saturday night check out our variety of live entertainment. This large open concept restaurant/ bar is a great spot for large corporate functions


Vineyards
54 York Street Byward Market
(613) 241-4270
Low ceilings, dim lighting and private, cozy booths all contribute to the wine-cellar feel of Vineyards. With live jazz on Tuesday, Wednesday and Sunday evenings, Vineyards is a great date spot. Vineyards offers an awe-inspiring wine list, featuring approximately 300 wines, as well as premium scotches, brandies and ports; their vast beer assortment features 60 Belgian beers alone.


Sotto Bar And Lounge
295 Dalhousie Street
(613) 241-3696
Status and prestige await guests at Sotto Bar & Lounge, newest and most exclusive venue in Ottawa. As you enter this exquisitely designed nightclub, the state of the art sound & light system of Sotto welcomes patrons to a nighttime fantasy.


The Liquor Store
130 York Street
Ottawa, ON
This venue brings fun times to the well heeled party set on the weekends and then delivers good times to industry types Sunday & Tuesday.


Zaphod's
27 York Street
(613) 562-1010
Zaphod Beeblebrox, the original pub at the edge of the universe, is an intimate live music venue and dance club. Home of the world famous Pan Galactic Gargleblaster and other such exotic galactic cocktails, the nightclub has played host to an eclectic mix of performers, including Alanis Morrissette, Cracker, Afghan Whigs, Ashley MacIsaac, Mzwake Mbuli and countless others.