Kinki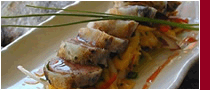 Welcome to the Ottawa Entertainment.ca Preston Street Fine Dining restaurant section. Here you will find all the information you need to plan a night out in little Italy.





Giovanni's Restaurant
362 Preston Street
(613) 234-3156
For over 20 years Giovanni's has enjoyed serving its fine Italian Cuisine to Ottawa residents and visitors. We offer an extensive variety of traditional dishes and specialties which are unique to our restaurant. Our warm and inviting restaurant is perfect for a dinner or lunch for two or for large gatherings of up to 60 people. A private room is also available for up to 30 people.


Green Papaya
246 Queen Street
(613) 231-8424
At the Green Papaya Restaurant, taste the finest in Classic Thai cuisine! Our finely decorated dining room offers a relaxing, smoke-free environment all year round, while our cozy patio beckons during the warm months. Enjoy a wide range of authentic Thai dishes that are perfect for sharing with that special someone or a group of great friends.


Il Primo
371 Preston Street
(613) 234-6858
Il Primo is an Italian restaurant like no other on Preston The staff are excellent and very efficient. The food is generous and delightful in taste and presentation. Highly recommended for casual diners.


Lindenhof European Restaurant
268 Preston St.
(613) 725-3481
Welcome to the Lindenhof European restaurant! We have been a part of the Ottawa dining scene for thirty years and believe that our success is built on consistently good, home-cooked food and friendly staff.


La Roma
430 Preston Street
(613) 234-8244
For over 40 years, La Roma has maintained a reputation for excellence by providing time-honored Italian Cuisine in a warm and intimate setting. La Roma restaurant offers a wide variety of succulent dishes, a carefully selected wine list, gracious service and dazzling décor that changes with the seasons.


Topkapi Turkish Restaurant
484 Preston St
(613) 230-8828
Some 32 years later, Raif's son Nail, buys an existing restaurant and renames it Topkapi, realizing his own dream, as well as reviving his father's memories and dreams. We thank you for choosing the new Topkapi Restaurant and providing us with an opportunity to pamper you with our Turkish hospitality.