Kinki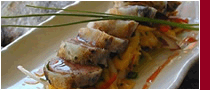 Welcome to the Ottawa Entertainment.ca Ottaw West restaurant section. Here you will find restaurants, dress code tips and dining suggestions for the Ottaw West a area.




222 Lyon Tapas Bar
222 Lyon Street
(613) 238-0222
At 222 Lyon, better known as the Tapas Bar, we feature a wide variety of 'tapas' a Spanish word for appetizers or snacks. Tapas are perfect for sharing with groups or provide more intimacy for a table of 2.


Absinthe Cafe
1208 Wellington Street West
(613) 761-1138
Established in 2003, Absinthe, is renowned for it's commitment to fine food. The restaurant is a modern bistro, using locally sourced ingredients, prepared in an inventive and sophisticated manner.


Amber Garden
1385 Wellington Street West
(613) 725-2757
Welcome to the Amber Garden Restaurant dedicated to the culinary traditions of the people on the ancient European amber route which connected to the Mediterranean world to the rich amber deposits of the Baltic Sea.


Cabotto's
5816 Hazeldean Road
(613) 592-3097
Cabotto's has set the standards for luxury Italian dining in Ottawa since 1976. A West end landmark for over 30 years, Cabotto's is a family owned and operated establishment. Set in a nineteenth-century sophisticated three storey, stone heritage house with six separate dining areas and two fireplaces.


Cafe Paradiso
199 Bank Street
(613) 565-0657
What is most appealing about Café Paradiso is it's great blend of casual fine dinning and Ottawa´s best, year-round live jazz program. Serving an eclectic bistro-style global cuisine, in a relaxed downtown atmosphere, the Café promises you a memorable evening of good food and lively entertainment.


Canvas
65 Holland Avenue
(613) 729-1991
Located within walking distance of art galleries and the Great Canadian Theatre Company, the Parkdale Market, and various other hidden gems, Canvas prides itself in being an inviting little neighbourhood bistro in the ever growing Wellington West area of Ottawa.


Cyranos
39 Robertson Rd
(613) 721-0510
Located in Ottawa's West End, Cyranos is a unique, chef owned restaurant offering modern Italian and Mediterranean cuisine. The menu offers something for everyone from light salads and pizzas to fresh pastas, seafood and steak. At Cyranos, every meal is made per order to meet your specific needs.


Juniper Kitchen and Wine Bar
245 Richmond Road
613-728-0220
Juniper Kitchen and Wine Bar strives to create globally inspired tastes which tempt and delight the palate. We offer a seasonally inspired menu, reflecting the produce harvested in this region.


Sushi Kan
1280 Baseline Road
(613) 221-9545
1900 Innes Road
(613) 746-8900
All you can eat sushi in a commercial chain type restaurant. Sushi is meant to be an art form, and the more effort that has gone into the presentation, the better it is considered to be. When your sushi arrives at the table, take a moment to appreciate its appearance. Presentation is more important with sushi than with almost any other type of cuisine; it is meant to be a meal for the eyes as well as the mouth.


Wellington Gastropub
1325 Wellington Street
(613) 729-1315
The term is derived from gastronomy and was coined in when the first Gastropub, The Eagle, was open in London, England. Gastropub always have an atmosphere which is relaxed and a focus on offering an eclectic menu, prepared to the highest standards of the best restaurants.


ZenKitchen
634 Somerset Street
(613) 233-6404
At ZenKitchenâ"¢, we believe that a gourmet meal can be created out of healthy and environmentally friendly foods. With a focus on whole foods prepared in a flavourful, healthful, manner, ZenKitchen demonstrates that food can be beautiful and good for you.



Zola's Restaurant
194 Robertson Rd, Nepean
(613) 721-0227
This fabulous restaurant on Robertson road will tend to your every need and will ensure that this will be a dinning experience that you will remember. From your table you can clearly see the chef assemble your choice of lunch or dinner from the freshest ingredients.