Kinki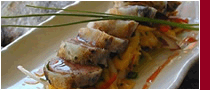 Welcome to the Ottawa Entertainment.ca chinatown dining section. Here you will find a variety of restaurants to choose from.







Mekong
637 Somerset St. West
(613) 237-7717
Mekong Restaurant has been serving Asian Cuisine to Ottawa Residents for over 20 years. We Specialize in Cantonese, Szechwan, Vietnamese and Thai Foods Come try our Renowned Rice Paper Shrimp Rolls or one of our specialty dishes such as our Lobster and Shrimp with Ginger and Green Onion.
.


ZenKitchen
634 Somerset Street
(613) 233-6404
At ZenKitchenâ"¢, we believe that a gourmet meal can be created out of healthy and environmentally friendly foods. With a focus on whole foods prepared in a flavourful, healthful, manner, ZenKitchen demonstrates that food can be beautiful and good for you.