Kinki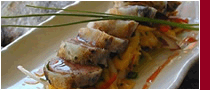 Welcome to the Ottawa Entertainment.ca Byward Market Fine Dining restaurant section. Here you will find restaurants, dress code tips and dining suggestions for the Byward Market . From trendy to chique, Ottawa has it all.




Kinki
41 York Street
(613) 789.7559
KINKI is the "in" place in Ottawa for exquisite sushi. A high-quality Asian Fusion Sushi Restaurant in the Byward Market, this spot will continue to set the trend for others to follow. Mouthwatering creations are sensational! Sip on a famous KINKI martini while you check out the Chef's artistic creations. The menu offers a wide range of appetizers and entrees, ranging from the tastiest Green Tea Encrusted Rack of Lamb to Tibetan Halibut and Crispy Delight Noodles, Sushi and Kinki Maki Rolls.


The Black Thorn
15 Clarence St.
(613) 241 0712
Chef Peter Harris emphasizes fresh, local ingredients, and the menu includes creative appetizers, pastas, pizza, as well as the chef's own chicken, beef, and lamb dishes. Choose from 15 imported beers on tap, or try one of the many cocktails and martinis available


Coasters
54 York Street Byward Market
(613) 241-4954
Dine in casual elegance, fresh fish and seafood with a spectacular view of the Byward Market. A warm & friendly seafood grill menu ranges from fresh fish on a open grill to the best fish & chips in town. All you can eat Mussels everyday $12.99, shrimp, scallops and our signature crab cakes are a constant favorite.


Courtyard Restaurant
21 George St.
(613) 241-1516
Our chef blends continental fare with the finest in contemporary tastes, creating delectable menus that are designed to bring out the best in every flavour. House specialties include Beef Tenderloin Wellington and Rack of Lamb, as well as a wide range of Steak, Seafood, Pork and Chicken dishes.


Domus Cafe Ottawa
87 Murray Street
613.241.6007
The first in Canadian, Regional, Seasonal Cuisine with menu items consisting of only the freshest of local ingredients provided by Canadian suppliers and directly delivered from local-area farms.


E18hteen Restaurant
18 York Street
(613) 244-1188
Our kitchen is the soul of our restaurant. Our menu reflects engaging flavour profiles and the changing seasons. We partner with dedicated purveyors in supplying the absolute best from our natural environment. Our wine directors source elite wines in every price category to enhance your dining experience.


Empire Grill
47 Clarence St.
(613) 241 1343
Located right in the heart of the Byward Market, Empire Grill has become the city's most dynamic meeting and eating place. Head Chef, Jason Potvin, cooks from the heart with a memorable blend of bold flavors. Empire Grill is the only Gold Member Licensee of Certified Angus Beef in all of Ontario.


Fat Tuesday's
62 York st. (Byward Market)
613.241.6810
Fat Tuesdays New Orleans Experience magically conjures up that "Big Easy" feeling, offering the finest in Cajun Creole cuisine, as well as contemporary dishes to suit all palates. Fats also hosts Ottawa's only duelling piano show, Friday and Saturday nights starting at 10:30.


Haveli
39 Clarence Street
(613) 241-1700
An award winning restaurant specializing in authentic Indian cuisine prepared by a team of professional Chefs from various regions of India. We feature a glass enclosed cooking area to enhance your dining pleasure. Watch the skilled chefs prepare fresh Tandoori Naans and other specialties right before you!



Mamma Grazzi's Kitchen
25 George St.
(613) 241-8656
Old World Italian cuisine is featured, with chicken and veal dishes complementing the wide variety of thin-crust pizzas and fresh pasta dishes.


Metropolitain Brasserie
700 Sussex Dr.
(613) 562-1160
For hundreds of years, Parisians and tourists alike have flocked to the great brasseries of Paris. Now, in the heart of Ottawa, is the city's own French Brasserie with the city's largest fresh oyster bar. Featuring fresh oysters sxsand daily creations from Chef de Cuisine Mike Poliquin, there is something for everyone at Metropolitain Brasserie.


Milestones
700 Sussex Dr
(613) 789-5432
At Milestones, enjoy the intimacy of the dining experience in the comfort of warm lighting and a cozy booth, or the buzz in the bar, watching the game on one of our many flat-screens with a cold pint in hand.



Moji Fusion Kitchen
97 Clarence Street
(613) 860 6654
Located in the center of the Byward Market on 97 Clarence Street in downtown Ottawa, Ontario. Moji Fusion Kitchen Specialises in Italian fusion cuisine.


Sante Restaurant Ottawa
45 Rideau Street
(613) 241-7113
Cosmopolitan yet casual with a fabulous view of Ottawa's famous Rideau and Sussex streetscapes. Our superb "globally inspired" cuisine, fine wines, and warm, friendly atmosphere make any occasion a success. For business or pleasure, large gatherings to intimate groups we would be pleased if you would be our guest.


Social
537 Sussex Dive
(613) 789-7355
For business or pleasure, Social's distinctive architecture and interior decor make everything from large business functions to intimate gatherings a possibility. Professional, fun and discreet, the staff is welcoming and pleased to assist in making your occasion a delightful and rewarding experience. Late evening entertainment is available Wednesday offering an eclectic mix of jazz, acid jazz and blues and on the weekends a variety of DJ's are spinning the crowd into a groove. Food, wine, atmosphere, pleasure...Social.


Mezzanotte Bistro
50 Murray Street
(613) 562 3978
Nestled in the heart of the Byward market, Mezzanotte specializes in delicious Italian cuisine served with a twist of originality. The lamb, the veal and the Chilean sea bass are customers' favourites, and are complimented by an extensive wine list from around the world. Enjoy your meal on the patio throughout the summer.



Stella Osteria
81-B Clarence Street
(613) 241-2200
Stella's new world Italian flare cuisine calls for a dynamic wine selection. They will offer an extensive wine list that showcases several varietals from Italy's diverse wine regions, as well as other, quality international selections. Cin Cin!


The Fish Market
54 York St Byward Market.
(613) 241-3474
The Fish Market Restaurant is located in the heart of the bustling Byward Market in a rustic Canadian heritage building built in 1875. The warm ambiance and cozy booths are enjoyed with an extensive menu of Fresh Fish, Canadian lobster, mussels, shrimp scallops and everything between.


Vineyards
54 York Street Byward Market
(613) 241-4270
Low ceilings, dim lighting and private, cozy booths all contribute to the wine-cellar feel of Vineyards. With live jazz on Tuesday, Wednesday and Sunday evenings, Vineyards is a great date spot. Vineyards offers an awe-inspiring wine list, featuring approximately 300 wines, as well as premium scotches, brandies and ports; their vast beer assortment features 60 Belgian beers alone.


Vittoria Trattoria
35 William St.
(613) 789-8959
The William Street restaurant offers a wide range of rooms and services to host all kinds of intimate events/groups from 2-50 people. Custom menus, satellite bars and an impressive wine selection are merely a few of the particulars that can be coordinated to suit your entire group dining needs. The convenient downtown location also makes it ideal for cocktail/office parties, wedding brunches, anniversaries and much more.


Wasabi Japanese Restaurant and Sushi Bar
41 Clarence St.
(613) 241-3636
Our dining room can accommodate your small groups or large parties comfortably, extending to the outdoor patio during the hot summer months. We offer an extensive array of authentic Japanese dishes from signature rolls and sushi to a variety of cooked dishes from our kitchen.