In 2022, the Esports industry was valued at over $1.38 billion USD. Blurring the lines between genuine sporting competitions and thrilling entertainment spectacles, competitive video gaming is one of the fastest-growing sectors in the world, with projections forecasting the industry's worth to continue climbing to $1.87 billion by 2025 and North America remains one of its biggest epicentres.
Video gaming is no longer a niche pursuit enjoyed by basement-dwellers with a severe lack of social skills, but rather a titan in the entertainment world with the capability of making its fanatics extremely rich. Join us here at Ottawa Entertainment as we run you through the biggest Esports games in 2023.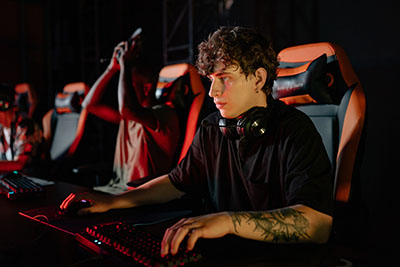 League Of Legends
Riot Games' League of Legends (LoL) has been a trailblazing presence in the Esports industry ever since it first hit the shelves back in 2009. Beginning life as one of the first Massive Online Battle Arena Titles (MOBA) and taking heavy inspiration from Defense of the Ancients (DOTA), LoL has grown to dominate both competitive and casual markets.
Known for its punishing skill ceiling when it comes to strategy, success in the server comes from solid communication and teamwork across the map. Every player in a five-man team has a different role to play and, with over 140 Champions to choose from to play as, there are countless combinations of picks that can be taken advantage of. Riot organise League's entire competitive scene, with regionalised tournaments culminating in the annual World Championship, considered to be perhaps the most significant event in the Esports calendar. The 2019 edition drew in over 100 million unique viewers, including 44 million concurrent viewers during the grand final.
Fortnite
Fortnite is still a relatively new entry to the Esports scene, having only launched its Battle Royale title in 2017. However, Epic's free-to-play title has certainly enjoyed a little-known thing we like to call success since hitting the shelves. Fortnite averages over 230 million players every month and has bridged the different facets of the entertainment industry in a way seldom seen in the gaming world thanks to high-profile collaborations with everything from the likes of Marvel to Dwayne Johnson.
Numerous real-world sports and entertainment superstars have played the game and, for those interested in Fortnite betting, casual gamers can now make money on the game through skill gaming platforms such as Unikrn. The game's competitive scene broke Esports headlines worldwide in 2019 with the first Fortnite World Cup, featuring tournaments for Fortnite's solo, duo and creative modes. Featuring a world record prize pool at the time topping $33 million, the FWC gave competitive video gaming arguably the most mainstream coverage it had ever seen at the time, solely on the back of the game's popularity.
Counter-Strike
Counter-Strike began life as a fan-made mod for Valve Corporation's Half-Life 3 all the way back in 1996. Its popularity led to Valve acquiring the rights to it, releasing CS 1.6 in 2000. Counter-Strike: Global Offensive (CS:GO) was released in 2012 as the fourth major entry to the series, but it wasn't until 2018 when the game was moved to a free-to-play model that it really began to experience its first boom in the first-person shooter (FPS) market.
CS:GO is the most played game on Steam currently, with the game smashing its concurrent player record as recently as February 2023. Known for its emphasis on planning, teamwork, strategy and sharp bursts of action rather than the all-out 'spray and pray' alternatives like Call of Duty, CS:GO serves as a great entry title for those looking to get into the wonderful world of competitive gaming. It boasts the most stacked competitive calendar in terms of teams, organisers and sponsors active in the scene.
Dota 2
When talking about the biggest Esports games in the world, the title that can boast having the largest prize pool of all time is well worth a mention. Defence of the Ancients began as a mod for Blizzard's Warcraft 3, before being acquired by Valve in 2009. Dota 2 was developed as a sequel by the company using their Source Engine and released in 2013 and has since become renowned for its devilish learning curve and passionate fanbase.
Like League of Legends, Dota 2 is a MOBA title that revolves around two teams of five heroes competing against each other in a PvP environment and attempting to destroy their opposing 'Ancient', a large tower located in the enemy base. Valve organises the Dota Pro Circuit, a series of tournaments used to determine which teams qualify for the annual International tournament. Utilising a crowdfunding model, The International's prize purse regularly tops $40 million, making it easily the most lucrative Esports tournament in the world.