In the world today, there are many different Christmas traditions many of which abide by the beliefs and folklores that are over hundreds of years old. For many of us, Santa Claus, a huge elderly and chubby fellow wearing a red and white beard, ascends the chimney and gives out gifts on the night before Christmas day.

If you dig through different cultures across the globe, you'll encounter loads of other Christmas and New Year's Eve traditions that are observed to usher and celebrate the special times of the year in style. On this page, we'll take you through some of the strange and exciting Christmas/New Year celebrations.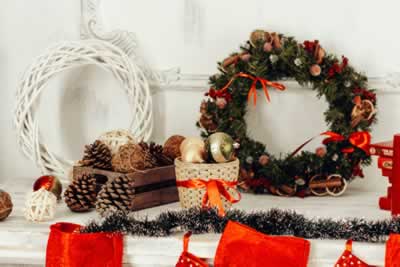 Fascinating Christmas Traditions
In case you didn't know, not all Christmas traditions are usually about Santa Claus and a reindeer steered sleigh full of gifts. Some of the most intriguing Christmas practices around the world include:

In Norway, things are pretty interesting. According to the legend, Christmas Eve coincides with the day when witches and evil spirits arrive in the realm of man. As a result, women in the country hide all the brooms, mops and brushes before going to bed as a measure of safety to ward away the witches who usually ride on brooms. As for men, they sometimes go outside to fire shotguns in the dead of night to scare off the witches.

The other tradition, which is out of the ordinary, takes place in Estonia. Here people will gather together in their homemade sauna on Christmas day to have fun as a family, stripping from tip to toe.

In Ukraine, you'll find people in some regions decorating their Christmas trees using spiders and cobwebs. This is a tradition they have been practicing for a long time now. According to legend, the spider wrapped around the entrance to the cave with its web (according to another version around the tree), where Virgin Maria and Child hid from Herod's warriors, thus saving the Holy Family from destruction. Another Ukrainian folk tale says that a poor widowed mother and her children couldn't afford to decorate their tree, and spiders came to the rescue and decorated the tree with their webs on the night of Christmas Eve. The following morning, as soon as the first Christmas morning light came into contact with the web, the webs shone in silver gold, and the family never felt poor again. Ukrainians now decorate their houses using spiderwebs because they are considered a charm, protect the family from evil and bring feelings of fortune and good luck.

Germany is also an interesting Christmas country where some families will ensure the very last ornament they hung on the Christmas tree becomes a Christmas pickle. Before being hung on the tree, the pickle is usually tucked away and concealed, and the first kid who finds it gets an exclusive gift and is deemed to have good luck the following year.

Coming to Africa, a good example is South Africa, where people will pass Christmas caterpillars from the Monarch moth rather than mince pies. These caterpillars are usually deep-fried to make a tasty meal, which is served up on Christmas day.
New Year's Eve Traditions
Like Christmas, New Year is also celebrated in many different ways. One of the most interesting New Year's Eve traditions happens in China, where each door is decorated using red details. According to the Chinese, the red color signifies happiness, and one or two days before New Year's Eve, they must clean up their home to discard misfortune.

Christians in India celebrate New Year's Eve using traditional curry food. The time-honored New Year's delicacy is a sweetened corn muffin crammed with sesame seeds and sweet grated coconut. After that, they hand out Christmas candles to neighbors.

In Spain and particularly Madrid, natives celebrate New Year by gobbling up 12 grapes, one grape per stroke of the clock at midnight. Everyone is required to finish consuming their grapes before midnight, to bring them good fortune. The other fascinating traditional practice in Spain is that it's habitual for employers to gift their employees.
Christmas Specials from Casino Slots Developers
The Christmas season is meant to be jolly. But you can make it a whole lot jollier by playing some of the best Christmas-themed slot machines such as Santastic powered by Real Time Gaming, Merry Xmas by Play'n Go, Ho Ho Ho slot designed by Microgaming, Deck the Halls from Quickfire and Jingle Bells also created by Microgaming.

If you are a huge fan of spinning reels online, you should particularly consider taking the swanky treasure that is 1X2 Gaming's Yule Be Rich online slot for a spin. This Christmas-themed slot game comes with some festive themed reward symbols in form of a snowman, gingerbread man, a gingerbread reindeer, and of course, some stockings. You'll find lots of Santa spins to relish, and there are Scattered Elves who can line your pockets with a payout worth up to 200x your initial bet.

And by the way, you can still delve into the goodness of the holiday mood by taking a shot at playful slots such as the Reactoonz slot demo before going hard on the game for real money. On the other hand, if playing slots is not really your cup of tea, you can as well quench your gaming thirst by playing live casino games for a lifelike casino gaming experience.

How Do You Celebrate Christmas and New Year?
What do you do to make the end of the year holidays special? Do you have some interesting traditions that you practice, or do you just relax and do it the good old fashioned Santa way? Drop a comment below and let us know how you celebrate Christmas and New Year!