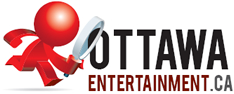 Monday

Absolute Comedy - Open Mic Mondays 8:30 $4.00
Tuesday

Absolute Comedy - 8:30 $5.00

Mambo - Mystics & Manicures Tuesdays- Ultimate Gals Night- Complimentary Manicures In-House Crystal Readings by Linda Steele (www.lindaenergyhealer.com) w/ Cocktails & Tapas on Special

Zaphod's - Industrial strength tuesdays - North America's longest running industrial and underground electronic night Every Tuesday with DJ Leslie + Guests 9PM – No cover, no dress code, no attitude.

Zaphod's - HANZEL UND GRETYL + THE PROMONIUM JESTERS, 8:00 PM CAD14.00


Wednesday


Yuk Yuk's on Elgin - Local Talent Night - 8:30pm

Absolute Comedy - Pro-Am Night 8:30 $6.00

Kinki - Mystic Garden Wednesdays- Asian inspired NCVA approved Veggie-Vegan Menu w/ In-House Crystal Readings by the mesmerizing Linda Steele (www.lindaenergyhealer.com)- Healthy dinning has never been so fun!

Kinki - Karaoke is back, every wednesday. Come and sing under the stars on our patio and enjoy a special shot of Jagermeister for $4.

Mambo - Mystic Garden Wednesdays- Latin inspired Veggie/Vegan Menu w/ Special Jazz and Lounge performances by 'Noelle Dimar', & 'Doug Slone'' to groove to all evening long

Zaphod's - Breakdown Wednesdays - The Nation's Capital has been waiting for this night, and its finally here – headbang and rock the eff out to the latest and greatest.Your favourite classics of punk rock, thrashcore, metalcore, pop punk, hardcore and post hardcore rock"n'roll! Every Wednesday with DJ James 9PM – No cover, no dress code, no attitude.

Zaphod's - THE GUILTY MINDS + TYLER KEALEY + MATT OUIMET, 8:00 PM CAD5.00

Sparks the Rescue, Set it Off, Something You Whisper, The Fairest, and In Bright Lights, Thistle And Weeds @ Mavericks - AA/19+/6pm/$11


Thursday


Barrymore's - Retro 90s n Top 40

Yuk Yuk's on Elgin 8:30

Absolute Comedy - 8:30 $10.00

Kinki - Tantalizing Thursdays- Tease your taste buds with our aphrodisiac inspired menu- Enjoy our complimentary Hand treatments & Massages and live Jazz performances by 'Rebecca Noelle'

Mambo - El Barrio Thursdays- Complimentary Tango lessons by Ottawa's Dynamic duo, Andre & Francine (www.francineandre.com)

Zaphod's - The Electric Ballroom - Alternative, Brit-Pop, Big Beat, Rock, Soul, Punk, Indie, 80s and Electro Thursdays, Fridays and Saturdays – After The Bands

Zaphod's - LIVE ROCK KARAOKE, 8:00 PM CAD6.00

Ottawa Folkfest w/ Ben Harper, Matthew Good, Matt Mays and more @ Hog's Back Park - AA/19+/6pm

Ottawa Folk Festival - September 6-10,2012 - www.ottawafolk.org



Friday


Yuk Yuk's on Elgin 9pm $20.00

Yuk Yuk's at the Prescott 9pm

Absolute Comedy 8:00 & 10:30 $12.00

Kinki - Unleash Fridays - A weekend full of great DJ beats (DJ Dusty & DJ Sean) to listen and captivate- Exclusive weekend menu features & Pole Dancing entertainment to pair your night off the Kinki way!

Mambo - Fridays- Zona Viva * A weekend filled w/ great food, aromatic ambiance and DJ music to dance (DJ's Don Juan & Federico) - Weekly Lively Belly dancing performances to compliment your evenings.

Zaphod's - THE MARK INSIDE, 8:00 PM CAD7.00

Sleep is for the Dead, Infiltration, The Channel 4 News Team, Anchor on the Ocean Floor, Paradigm Divide, Of Burning Empires, Constructing the Future @ Club SAW - AA/6pm/$8/$10

Ottawa Folkfest w/ Wintersleep, Timber Timbre, Kathleen Edwards and more @ Hog's Back Park - AA/19+/6pm

Julie Doiron and The Wrong Guys, Dearly Beloved @ Cafe Dekcuf - 19+/9pm/$12

National Arts Centre - Brazilian National Day-Hamilton de Holanda concert Friday | NAC Studio September 7, 2012 7:00pm

National Arts Centre - Caridad Cruz Friday | NAC Fourth Stage September 7, 2012 7:30pm

Ottawa Folk Festival - September 6-10,2012 - www.ottawafolk.org


Saturday

Yuk Yuk's on Elgin - 9pm $20.00

Yuk Yuk's at the Prescott - 8 pm & 10:30 pm

Absolute Comedy - 8:00 & 10:30 $15.00

Mambo - Suave Saturdays - A weekend filled w/ great food, aromatic ambiance and DJ music to dance (DJ's Don Juan & Federico) - Weekly Lively Belly dancing performances to compliment your evenings.

Kinki - Throwback Saturdays - A weekend full of great DJ beats (DJ Dusty & DJ Sean) to listen and captivate- Exclusive weekend menu features & Pole Dancing entertainment to pair your night off the Kinki way!

Zaphod's - The Electric Ballroom - Alternative, Brit-Pop, Big Beat, Rock, Soul, Punk, Indie, 80s and Electro Thursdays, Fridays and Saturdays – After The Bands

Zaphod's - SIN SISTERS BURLESQUE, 8:00 PM CAD10.00

The Beatdown, The Sentries, Beer Barons, The Unremarkables @ Cafe Dekcuf - AA/19+/8pm/$10

Ottawa Folkfest w/ Great Lake Swimmers, Yukon Blonde, Corb Lund, Saul Williams, Hooded Fang, Great Big Sea @ Hog's Back Park - AA/19+/2pm

National Arts Centre - Just For Laughs Lewis Black Saturday - Sunday | NAC Theatre September 8 - 9, 2012 7:30pm

National Arts Centre - Opera Lyra Ottawa La Bohème Saturday - Saturday | NAC Southam Hall September 8 - 15, 2012 8:00pm Running time is approximately 2.5 hours with intermission.

Ottawa Folk Festival - September 6-10,2012 - www.ottawafolk.org


Sunday


Absolute Comedy - 8:00 $10.00

Lieutenant's Pump - Bingo, music, prizes and games with DJ Bingo

Mambo - Zumba with Mambo - Every sunday for $25 per person - Enjoy a Zumba Fitness class with instructor Mabel Alvarez and finish off with a delicious Mambo Brunch. Zumba start time:10:30-11:30 Brunch: 11:45

Zaphod's - TRAILER PARK BINGO - Interspersed by HOT FUDGE SUNDAYS with DJ Retardinator

Kreator, Swallow The Sun, Mortor and more @ Mavericks - AA/7pm/$30/$35

Ottawa Folkfest w/ Dan Mangan, Patrick Wilson, Whitehorse, John K. Samson, Black Dogs @ Hog's Back Park - AA/19+/2pm

National Arts Centre - Just For Laughs Lewis Black Saturday - Sunday | NAC Theatre September 8 - 9, 2012 7:30pm

National Arts Centre - Opera Lyra Ottawa La Bohème Saturday - Saturday | NAC Southam Hall September 8 - 15, 2012 8:00pm Running time is approximately 2.5 hours with intermission.

Ottawa Folk Festival - September 6-10,2012 - www.ottawafolk.org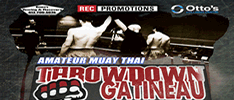 Gatineau Throwdown
September 29, 2012
Casino du Lac Lemay

September 29th, at the Hilton Lac Leamy, the best Amateur Muay thai fighters in the region will face-off in the ring.
Throwdown Gatineau is the premiere Amateur Muay Thai event in the region, playing to host to teams from all across Canada and the best teams in the National Capital. 15 to 20 fights, with local teams Team Bushido, Experience
MMA, Ottawa Academy of Martial Arts, Ronin MMA, Fit MMA, N-1 Thai boxing and Evolution representing the Ottawa-Gatineau area fighters.

Tickets are $35 dollars, $40 at the door - www.throwdown.ca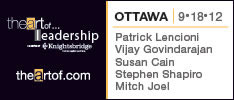 Building on the success of last year's SOLD OUT national tour in Canada, The Art of Leadership conference will be coming to Ottawa on September 18th, 2012. This world class program features five internationally renowned bestselling authors and visionaries, who will share an exciting blend of cutting edge thinking and real world experience on today's most critical leadership issues.

Through this special offer, you and your colleagues can take advantage of our preferred pricing and SAVE $50 off the regular price by using promo code OEC. Register Now

TO WIN 2 TICKETS. Reply with '' Art of Leadership September 18,2012 '' in the subject line or Direct Message with AOL on twitter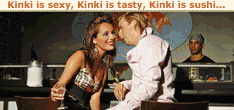 Mystic Garden Wednesdays- Asian inspired NCVA approved Veggie-Vegan Menu w/ In-House Crystal Readings by the mesmerizing Linda Steele (www.lindaenergyhealer.com)- Healthy dinning has never been so fun!

Tantalizing Thursdays- Tease your taste buds with our aphrodisiac inspired menu- Enjoy our complimentary Hand treatments & Massages and live Jazz performances by 'Rebecca Noelle'

Unleash Fridays & Throwback Saturdays- A weekend full of great DJ beats (DJ Dusty & DJ Sean) to listen and captivate- Exclusive weekend menu features & Pole Dancing entertainment to pair your night off the Kinki way!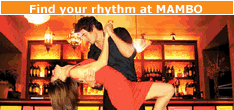 Mystics & Manicures Tuesdays- Ultimate Gals Night- Complimentary Manicures In-House Crystal Readings by Linda Steele (www.lindaenergyhealer.com) w/ Cocktails & Tapas on Special

Mystic Garden Wednesdays- Latin inspired Veggie/Vegan Menu w/ Special Jazz and Lounge performances by 'Noelle Dimar', & 'Doug Slone'' to groove to all evening long

El Barrio Thursdays- Complimentary Tango lessons by Ottawa's Dynamic duo, Andre & Francine (www.francineandre.com)

Zona Viva Fridays & Suave Saturdays A weekend filled w/ great food, aromatic ambiance and DJ music to dance (DJ's Don Juan & Federico) - Weekly Lively Belly dancing performances to compliment your evenings.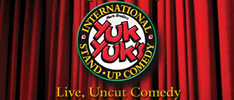 "likeable, energetic and engaging" – **** Tim Richards, The Age "Naturally funny. Davidson's like listening to a funny friend - unforced, charming, warm, relaxed and secure with a hint of danger." -The Barefoot Review

"He's got massive social consciousness going on behind the funny. And there is lots of funny." -RHUM "This Canadian has a razor sharp wit." -Adelaide Advertiser "Christophe managed to have us beaming at his presence" –The Beat "leaves the audience with a lasting impression – and smile on their face." -Steve Bennett, Chortle UK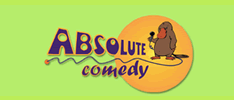 With his nice-guy approach, combined with exceptional wit and an imagination that sees no boundaries, it's no wonder Mark has charmed audiences across North America. Come check him out.

He wrote, directed, and produced his first feature movie in January 2009, just a few months after he graduated from the Hollywood Film Institute. His production company, now based, Toronto is working on its second feature for the new year. When Mark isn't sitting in the editing room or performing on stage, he's watching hockey. Mark loves hockey. Mark's work has been featured on Star TV, the Comedy Network, CBC, and most recently at the Los Angeles International Comedy Festival.

TO WIN 4 TICKETS. Reply with '' Absolute Comedy'' in the subject line or Direct Message with Absolute Comedy on twitter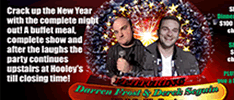 Fri Sep 14 - Sat Sep 15
RICHARD RYDER WITH ALEX WOOD & GREG SCHROEDER

Fast thinking and quick witted, Richard Ryder takes the stage with a refreshing energy and "no holds barred" attitude that audiences welcome again and again. No topic is too taboo for this Toronto native whose comedy is fresh, fast, funny and a constant source of embarrassment to his family.

TO WIN 2 TICKETS Reply with '' Yuk Yuk's at the Prescott '' in the subject line or Direct Message with Yuk Yuk's at the Prescott on twitter


In Theatres

For a Good Time, Call...
The Good Doctor
The Tall Man
The Flying Swords of Dragon Gate
Lawless
Lawless
The Day
The Oogieloves in the Big Balloon Adventure
The Apparition
Premium Rush
General Education
Little White Lies
Thunderstruck
Wild Horse, Wild Ride
Sleepwalk with Me
The Revenant
Hermano
Hit & Run
Chicken with Plums
The Expendables 2


Ottawa movie showtimes and reviews link
Opening this Week

The Words - 2012-09-07
Bachelorette - 2012-09-07
Branded - 2012-09-07
The Cold Light of Day - 2012-09-07
Hello I Must Be Going - 2012-09-07
The Inbetweeners - 2012-09-07
Keep the Lights On - 2012-09-07
Toys in the Attic - 2012-09-07
Finding Nemo - 2012-09-14
Arbitrage - 2012-09-14
Resident Evil: Retribution - 2012-09-14
10 Years - 2012-09-14
Bait 3D - 2012-09-14
Bangkok Revenge - 2012-09-14
Liberal Arts - 2012-09-14
The Master - 2012-09-14
Stolen - 2012-09-14
Waiting Room - 2012-09-26

Ottawa movie showtimes and reviews link

Top 10 Itunes Downloads

1 Taylor Swift - We Are Never Ever Getting Back Together
2 Maroon 5 - One More Night
3 Fun. - Some Nights
4 Flo Rida - Whistle
5 Owl City & Carly Rae Jepsen - Good Time
6 Justin Bieber - As Long As You Love Me
7 Phillip Phillips - Home
8 Neon Trees - Everybody Talks
9 Cher Lloyd - Want U Back
10 Carly Rae Jepsen - Call Me Maybe