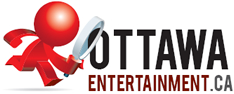 Monday

Absolute Comedy - Open Mic Mondays 8:30 $4.00

Zaphod's - CRYSTAL KID + ILLITRY, 8:00 PM CAD8.00

Unreasonable Action Presents: Geek Triva @ Arrow and Loon Pub (99 5th ave) - AA/6:30pm/FREE
Tuesday

Absolute Comedy - 8:30 $5.00

Mambo - Mystics & Manicures Tuesdays- Ultimate Gals Night- Complimentary Manicures In-House Crystal Readings by Linda Steele (www.lindaenergyhealer.com) w/ Cocktails & Tapas on Special

Zaphod's - Industrial strength tuesdays - North America's longest running industrial and underground electronic night Every Tuesday with DJ Leslie + Guests 9PM – No cover, no dress code, no attitude.

My Ticket Home, Horizons, Palisades, Preeminent, Colour Me Crimson, The Waterfront @ Mavericks - AA/19+/6:00pm/$13


Wednesday


Yuk Yuk's on Elgin - Local Talent Night - 8:30pm

Absolute Comedy - Pro-Am Night 8:30 $6.00

Kinki - Mystic Garden Wednesdays- Asian inspired NCVA approved Veggie-Vegan Menu w/ In-House Crystal Readings by the mesmerizing Linda Steele (www.lindaenergyhealer.com)- Healthy dinning has never been so fun!

Kinki - Karaoke is back, every wednesday. Come and sing under the stars on our patio and enjoy a special shot of Jagermeister for $4.

Mambo - Mystic Garden Wednesdays- Latin inspired Veggie/Vegan Menu w/ Special Jazz and Lounge performances by 'Noelle Dimar', & 'Doug Slone'' to groove to all evening long

Zaphod's - Breakdown Wednesdays - The Nation's Capital has been waiting for this night, and its finally here – headbang and rock the eff out to the latest and greatest.Your favourite classics of punk rock, thrashcore, metalcore, pop punk, hardcore and post hardcore rock"n'roll! Every Wednesday with DJ James 9PM – No cover, no dress code, no attitude.

Zaphod's - TWO HOURS TRAFFIC + THE GREAT BLOOMERS, 8:00 PM CAD10.00

Stray From the Path, Obey the Brave (ex-Despised Icon/Blind Witness/Darkness Rites), Counterparts, Backtrack, Northlane @ Mavericks - AA/19+/6pm/$17

National Arts Centre - La douleur Wednesday - Saturday | NAC Studio September 26 - 29, 2012 8:00pm


Thursday


Barrymore's - Retro 90s n Top 40

Yuk Yuk's on Elgin 8:30

Absolute Comedy - 8:30 $10.00

Kinki - Tantalizing Thursdays- Tease your taste buds with our aphrodisiac inspired menu- Enjoy our complimentary Hand treatments & Massages and live Jazz performances by 'Rebecca Noelle'

Mambo - El Barrio Thursdays- Complimentary Tango lessons by Ottawa's Dynamic duo, Andre & Francine (www.francineandre.com)

Zaphod's - THE LIVING DEADS (Denver rockabilly) + GOAT,8:00 PM CAD8.00

Zaphod's - The Electric Ballroom - Alternative, Brit-Pop, Big Beat, Rock, Soul, Punk, Indie, 80s and Electro Thursdays, Fridays and Saturdays – After The Bands

Mutemath, Civil Twilight @ Bronson Centre Theatre - AA/7pm/$25

Hunter Valentine, Apocalypstic, Doll @ Cafe Dekcuf - 19+/8pm/$12

Propaghandi, Comeback Kid, Fuck the Facts @ Ritual - 16+/19+/7pm/$23.50 - SOLD OUT

National Arts Centre - La douleur Wednesday - Saturday | NAC Studio September 26 - 29, 2012 8:00pm

National Arts Centre - Kidd Pivot | Crystal Pite The Tempest Replica Thursday - Friday | NAC Theatre September 27 - 28, 2012 7:30pm

National Arts Centre - Beethoven's Fifths Thursday | NAC Southam Hall September 27, 2012 8:00pm


Friday


Yuk Yuk's on Elgin 9pm $20.00

Yuk Yuk's at the Prescott 9pm

Absolute Comedy 8:00 & 10:30 $12.00

Kinki - Unleash Fridays - A weekend full of great DJ beats (DJ Dusty & DJ Sean) to listen and captivate- Exclusive weekend menu features & Pole Dancing entertainment to pair your night off the Kinki way!

Mambo - Fridays- Zona Viva * A weekend filled w/ great food, aromatic ambiance and DJ music to dance (DJ's Don Juan & Federico) - Weekly Lively Belly dancing performances to compliment your evenings.

Zaphod's - Jon and Roy and guests, 8:30 PM CAD10.00

Mystery Machine, And What Army?, The City Above @ Zaphod Beeblebrox - 19+/8pm/$10

Beau's Oktoberfest with Hollerado, Elliot Brood, Change of Heart @ Vankleek Hill Fairgrounds (92 Main Street West, VANKLEEK HILL) - AA/$18 - Bridgehead, Online

Hey Ocean, Family of the Year, The Zolas @ Ritual - 19+/9pm/$14

Jon and Roy, The Musettes @ Zaphod Beeblebrox - 19+/8pm/$10

National Arts Centre - La douleur Wednesday - Saturday | NAC Studio September 26 - 29, 2012 8:00pm

National Arts Centre - Kidd Pivot | Crystal Pite The Tempest Replica Thursday - Friday | NAC Theatre September 27 - 28, 2012 7:30pm

National Arts Centre - Heroic Beethoven Friday | NAC Southam Hall September 28, 2012

Niagara VS Ottawa 67's @ Scotiabank place 7:30pm


Saturday

Gatineau Throwdown September 29, 2012 Casino du Lac Lemay - Tickets are $35 dollars, $40 at the door - www.throwdown.ca

Yuk Yuk's on Elgin - 9pm $20.00

Yuk Yuk's at the Prescott - 8 pm & 10:30 pm

Absolute Comedy - 8:00 & 10:30 $15.00

Mambo - Suave Saturdays - A weekend filled w/ great food, aromatic ambiance and DJ music to dance (DJ's Don Juan & Federico) - Weekly Lively Belly dancing performances to compliment your evenings.

Kinki - Throwback Saturdays - A weekend full of great DJ beats (DJ Dusty & DJ Sean) to listen and captivate- Exclusive weekend menu features & Pole Dancing entertainment to pair your night off the Kinki way!

Zaphod's - The Electric Ballroom - Alternative, Brit-Pop, Big Beat, Rock, Soul, Punk, Indie, 80s and Electro Thursdays, Fridays and Saturdays – After The Bands

Zaphod's - ERIK LIND AND THE ORCHARD + PHANTOM SHORES + ANDRE M. BLUTEAU, 8:00 PM CAD5.00

Punkottawa.com Fall Flea Market @ Bronson Centre Mac Hall - AA/11am/donation

Beau's Oktoberfest with Plants and Animals, Ron Hawkins and the Do-Good Assassins, Carolyn Mark and more @ Vankleek Hill Fairgrounds (92 Main Street West, VANKLEEK HILL) - AA/$18 - Bridgehead, Online

National Arts Centre - La douleur Wednesday - Saturday | NAC Studio September 26 - 29, 2012 8:00pm

Erie VS Ottawa 67's @ Scotiabank place 2:00pm



Sunday


Absolute Comedy - 8:00 $10.00

Lieutenant's Pump - Bingo, music, prizes and games with DJ Bingo

Mambo - Zumba with Mambo - Every sunday for $25 per person - Enjoy a Zumba Fitness class with instructor Mabel Alvarez and finish off with a delicious Mambo Brunch. Zumba start time:10:30-11:30 Brunch: 11:45

Zaphod's - TRAILER PARK BINGO - Interspersed by HOT FUDGE SUNDAYS with DJ Retardinator

National Arts Centre - Culture Days at the NAC! Sunday | September 30, 2012 12:00pm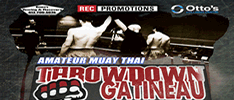 Gatineau Throwdown
September 29, 2012
Casino du Lac Lemay

September 29th, at the Hilton Lac Leamy, the best Amateur Muay thai fighters in the region will face-off in the ring.
Throwdown Gatineau is the premiere Amateur Muay Thai event in the region, playing to host to teams from all across Canada and the best teams in the National Capital. 15 to 20 fights, with local teams Team Bushido, Experience
MMA, Ottawa Academy of Martial Arts, Ronin MMA, Fit MMA, N-1 Thai boxing and Evolution representing the Ottawa-Gatineau area fighters.

Tickets are $35 dollars, $40 at the door - www.throwdown.ca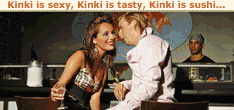 Mystic Garden Wednesdays- Asian inspired NCVA approved Veggie-Vegan Menu w/ In-House Crystal Readings by the mesmerizing Linda Steele (www.lindaenergyhealer.com)- Healthy dinning has never been so fun!

Tantalizing Thursdays- Tease your taste buds with our aphrodisiac inspired menu- Enjoy our complimentary Hand treatments & Massages and live Jazz performances by 'Rebecca Noelle'

Unleash Fridays & Throwback Saturdays- A weekend full of great DJ beats (DJ Dusty & DJ Sean) to listen and captivate- Exclusive weekend menu features & Pole Dancing entertainment to pair your night off the Kinki way!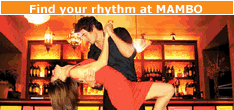 Mystics & Manicures Tuesdays- Ultimate Gals Night- Complimentary Manicures In-House Crystal Readings by Linda Steele (www.lindaenergyhealer.com) w/ Cocktails & Tapas on Special

Mystic Garden Wednesdays- Latin inspired Veggie/Vegan Menu w/ Special Jazz and Lounge performances by 'Noelle Dimar', & 'Doug Slone'' to groove to all evening long

El Barrio Thursdays- Complimentary Tango lessons by Ottawa's Dynamic duo, Andre & Francine (www.francineandre.com)

Zona Viva Fridays & Suave Saturdays A weekend filled w/ great food, aromatic ambiance and DJ music to dance (DJ's Don Juan & Federico) - Weekly Lively Belly dancing performances to compliment your evenings.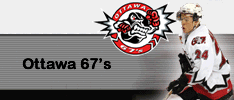 Come out and watch Canada's favorite junior hockey team in action! The Ottawa 67's are a fantastic and affordable way to spend a Friday night or Sunday afternoon in the Nation's Capital!

With hard-hitting, fast-paced action on the ice and live entertainment and games for the kids off the ice, you just can't beat the Boys in the Barber Poles!

Tickets start as low as $20.00 for children 12 years old and under, so call 755-1166 to book your seats now, or visist www.ottawa67s.com for more information.

TO WIN 2 TICKETS. Reply with ''Ottawa 67's'' in the subject line or Direct Message with "67's" on twitter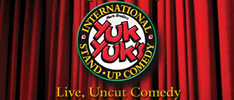 Tom Simmons was born in New York and raised in Atlanta, Georgia. He is married to the love of his life, Serena, for more than a decade. Together, they have a son named Owen. "We figured, that's what we would be doing for the rest of our lives." Before Owen's birth in 2004, Tom and Serena toured the continent in their RV, devoted to perfecting Tom's stage act and putting their relationship to the test.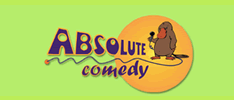 Scott still runs with the wind to get to his dream! Being a road comic full-time, he knows the hardship of the road and pushes himself more towards his dreams. The admiration Scott demonstrates is complete professionalism and respect in his business with the compassion for others. The combination of talent, determination and hard work, makes this particular comic one to follow his career to the top.

" Scott White will be the next big thing in comedy!" Jason Ishee: Owner Funny Bone "Scott White did an incredible show with a sold out crowd and "standing room only" show! No other comic was able to draw that type of crowd!" Joe Folino, Owner of Coliseum Comedy Club

TO WIN 4 TICKETS. Reply with '' Absolute Comedy'' in the subject line or Direct Message with Absolute Comedy on twitter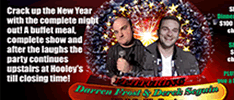 Considered by many to be the funniest one-eyed Egyptian/Canadian comic, Wafik Nasralla has been making people laugh all across Canada for over 10 years. His shy, vulnerable demeanor has given him a like-ability that makes his comedy accessible to all.

TO WIN 2 TICKETS Reply with '' Yuk Yuk's at the Prescott '' in the subject line or Direct Message with Yuk Yuk's at the Prescott on twitter


In Theatres

End of Watch
House at the End of the Street
Trouble with the Curve
17 Girls
About Cherry
Brooklyn Brothers Beat the Best
Diana Vreeland: The Eye Has to Travel
Head Games
How to Survive a Plague
The Perks of Being a Wallflower
War of the Buttons
You May Not Kiss the Bride
Finding Nemo
Arbitrage
Resident Evil: Retribution
10 Years
Bait 3D
Bangkok Revenge
Liberal Arts
The Master


Ottawa movie showtimes and reviews link
Opening this Week

Pitch Perfect - 2012-09-28
Hotel Transylvania - 2012-09-28
Looper - 2012-09-28
Won't Back Down - 2012-09-28
The Hole - 2012-09-28
Solomon Kane - 2012-09-28
Frankenweenie - 2012-10-05
Sinister - 2012-10-05
Taken 2 - 2012-10-05
Butter - 2012-10-05
Escape Fire: The Fight to Rescue American Healthcare - 2012-10-05
The House I Live In - 2012-10-05
The Paperboy - 2012-10-05
V/H/S - 2012-10-05
Wuthering Heights - 2012-10-05
The Oranges - 2012-10-05
Wake in Fright - 2012-10-05

Ottawa movie showtimes and reviews link

Top 10 Itunes Downloads

1 PSY - Gangnam Style
2 Maroon 5 - One More Night
3 Taylor Swift - We Are Never Ever Getting Back Together
4 Fun. - Some Nights
5 Flo Rida - Whistle
6 P!nk - Blow Me
7 Alex Clare - Too Close
8 Phillip Phillips - Home
9 Justin Bieber - As Long As You Love Me
10 Carly Rae Jepsen & Owl City - Good Time