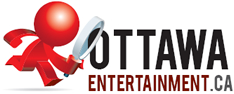 Tuesday

Absolute Comedy - 8:30 $5.00

Mambo - Tuesdays- Mystics & Manicures *Come by for a manicure, be inspired by the tarot reading & stay for the ladies cocktail & tapas specials*

Wednesday


Yuk Yuk's on Elgin - Local Talent Night - 8:30pm

Absolute Comedy - Pro-Am Night 8:30 $6.00

Kinki - Wednesdays- Mystic Garden *Featuring Mystic Readings along with our Special Veggie & Vegan menu*&… 'Sui Generis' with resident Djs Easton Ellis, Nick Bazso & Paulo Cardoso ...providing a one of a kind musical journey through the classically sensual and blunted sounds of Brazilian bossa nova, Jamaican dub reggae, vintage film soundtracks, old school hip hop, trip hop, Afro beat, Latin and psychedelic rock early in the night, leading into disco, french house, broken beats, mashups, IDM, modern day jazz, tripped out house and much more later in the night...

Mambo - Wednesdays- Mystic Garden *Experience our in-house Energy healer & our delectable Latin inspired Veggie & Vegan menu* & on the Rooftop Dj Dusty *dance along to the best urban, dance, and retro tunes

Zaphod's - LIVE ROCK KARAOKE, 8:00 PM CAD6.00

Bluesfest w/ The Melvins, Tangerine Dream, Akron/Family, Fishbone, Fet.Nat., Loon Choir, Billy Bragg, Winchester Warm, and more @ Lebreton Flats

The BCASA, Bones Malones, Kraken The Case @ Cafe Dekcuf - 19+/8pm/$10

Thursday


Barrymore's - Retro 90s n Top 40

Yuk Yuk's on Elgin 8:30

Absolute Comedy - 8:30 $10.00

Kinki - Thursdays- Diva Night *Enjoy & our Champagne~Sushi~Chocolate inspired ladies menu*&… ~Dj Balu on Deck playing his sexy funky girlie jazzy beats from slo mo disco to grown up house music

Mambo - Thursdays- Danza Latina *Dance along with us for our Free Cali Salsa lessons from 8-10pm w\ Salsa's own Sabtain Khan* & enjoy 5$ Mojitos, Margaritas, & Sangrias all night & on the Rooftop 'Fiesta' with Dj Paulo Cardoso & weekly guests playing all styles of worldbeat music from Europe, Caribbean, and South America

Zaphod's - SAL PIAMONTE, 8:00 PM CAD5.00
Bluesfest w/ Plants & Animals, Dirty Projectors, The Strain, Dry River Caravan, LMFAO and more @ Lebreton Flat

White Lung (Vancouver. Deranged Records), Pregnancy Scares, Critical Convictions @ babylon - 19+/9pm/$8

National Arts Centre - The Lord of the Rings: The Fellowship of the Ring In Concert Thursday - Saturday | NAC Southam Hall July 5 - 7, 2012 7:00pm


Friday


Yuk Yuk's on Elgin 9pm $20.00

Yuk Yuk's at the Prescott 9pm

Absolute Comedy 8:00 & 10:30 $12.00

Kinki - 'Theme' Fridays- ~DJ Dusty on Deck *dance along to the best urban, dance, and retro tunes and enjoy our weekly themes. From Groovin 60's, to Disco Fever 70's, Crazy 80's, Viva Vegas, Burlesque, and more…

Mambo - Fridays- Zona Viva *Friday nights just got hotter. Come and show off your best Latin dance moves at Zona Viva , featuring lessons, dance floor, and Happy Hour specials* with Dj's Freddie & Dj's Mendez playing Latin grooves, classic 90's, top 40, and house beats

Punk Rock Cover Night #6 w/ Bad Religion, Blitz, Agent Orange, Anti-Nowhere League, Madball, Head, Jerry's Kids, Stiff Little Fingers @ Montgomery Legion Hall - AA/19+/7:30pm/$8
Bluesfest w/ Connor Oberst (Bright Eyes), City and Colour, Freelance Whales, Kalle Mattson, Arkells and more @ Lebreton Flats

National Arts Centre - The Lord of the Rings: The Fellowship of the Ring In Concert Thursday - Saturday | NAC Southam Hall July 5 - 7, 2012 7:00pm


Saturday

Yuk Yuk's on Elgin - 9pm $20.00

Yuk Yuk's at the Prescott - 8 pm & 10:30 pm

Absolute Comedy - 8:00 & 10:30 $15.00

Mambo - Suave Saturdays- with DJ Jim Reilly *a long time Ottawa Dj Veteran, Jim merges all cultural borders by playing a great array of your Latin & English favourites, all night, a Saturday dedicated to your tunes*

Kinki - 'Classic' Saturdays- ~DJ Sean on Deck *your Saturday Night Fever favourite playing his eclectic but deep rooted alternative vibes ranging from rock and hip hop to country and dance. He'll keep you guessing for more.

Bluesfest w/ Iron Maiden, Alice Cooper, Monster Truck, Sparrows, Hell Bros, Philly Moves and more @ Lebreton Flats

National Arts Centre - The Lord of the Rings: The Fellowship of the Ring In Concert Thursday - Saturday | NAC Southam Hall July 5 - 7, 2012 7:00pm

National Arts Centre - Aziz Ansari: Buried Alive Tour Saturday | NAC Theatre July 7, 2012 7:30pm



Sunday


Absolute Comedy - 8:00 $10.00

Mambo - Bombshell Sundays- & on the Rooftop with Dj Eric Latulippe & friends Playing the best funky, soulful house music the city has to offer, & enjoy specials on buckets of Coronitas all day long..

Zaphod's - TRAILER PARK BINGO - Interspersed by HOT FUDGE SUNDAYS with DJ Retardinator

Bluesfest w/ The PepTides, The Bright Light Social Hour, Shred Kelly, Walk Off the Earth, The Wooden Sky, The Deep Dark Woods, Keek and more @ Lebreton Flats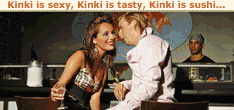 Wednesdays- Mystic Garden *Featuring Mystic Readings along with our Special Veggie & Vegan menu*&… 'Sui Generis' with resident Djs Easton Ellis, Nick Bazso & Paulo Cardoso ...providing a one of a kind musical journey through the classically sensual and blunted sounds of Brazilian bossa nova, Jamaican dub reggae, vintage film soundtracks, old school hip hop, trip hop, Afro beat, Latin and psychedelic rock early in the night, leading into disco, french house, broken beats, mashups, IDM, modern day jazz, tripped out house and much more later in the night...

Thursdays- Diva Night *Enjoy & our Champagne~Sushi~Chocolate inspired ladies menu*&… ~Dj Balu on Deck playing his sexy funky girlie jazzy beats from slo mo disco to grown up house music

'Theme' Fridays- ~DJ Dusty on Deck *dance along to the best urban, dance, and retro tunes and enjoy our weekly themes. From Groovin 60's, to Disco Fever 70's, Crazy 80's, Viva Vegas, Burlesque, and more…

'Classic' Saturdays- ~DJ Sean on Deck *your Saturday Night Fever favourite playing his eclectic but deep rooted alternative vibes ranging from rock and hip hop to country and dance. He'll keep you guessing for more..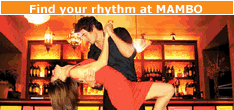 Tuesdays- Mystics & Manicures *Come by for a manicure, be inspired by the tarot reading & stay for the ladies cocktail & tapas specials*

Wednesdays- Mystic Garden *Experience our in-house Energy healer & our delectable Latin inspired Veggie & Vegan menu* & on the Rooftop Dj Dusty *dance along to the best urban, dance, and retro tunes

Thursdays- Danza Latina *Dance along with us for our Free Cali Salsa lessons from 8-10pm w\ Salsa's own Sabtain Khan* & enjoy 5$ Mojitos, Margaritas, & Sangrias all night & on the Rooftop 'Fiesta' with Dj Paulo Cardoso & weekly guests playing all styles of worldbeat music from Europe, Caribbean, and South America

Fridays- Zona Viva *Friday nights just got hotter. Come and show off your best Latin dance moves at Zona Viva , featuring lessons, dance floor, and Happy Hour specials* with Dj's Freddie & Dj's Mendez playing Latin grooves, classic 90's, top 40, and house beats

Suave Saturdays- with DJ Jim Reilly *a long time Ottawa Dj Veteran, Jim merges all cultural borders by playing a great array of your Latin & English favourites, all night, a Saturday dedicated to your tunes*

Bombshell Sundays- & on the Rooftop with Dj Eric Latulippe & friends Playing the best funky, soulful house music the city has to offer, & enjoy specials on buckets of Coronitas all day long..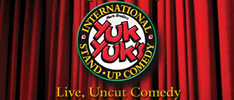 Peter White started performing in comedy at a small upstairs bar in Halifax, Nova Scotia in 2005, and has been moving upward ever since . After performing for less than a year, he was named one of the top five "up and coming" comics in Canada by CBC Radio One's "So, You Think You're Funny?", a national radio program designed to seek out the best unknown comedic talent from across the country.
He has since gone on to appear at the prestigious Just For Laugh's Comedy Festival in Montreal, and was taped for national television as part of the Halifax Comedy Festival. He can also be heard across the country on XM Satellite Radio.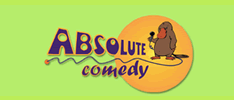 Mike Dambra is the smart-ass king of comedy! C'mon, sit down front, we dare you! If you're a comedy fan and you haven't seen Mike, you're in for a treat. In 1987 and 1997 he claimed the "Funniest Person In Rochester" title. That, in turn earned him two television news stories in 1988, and more in 1989, 1995, & 1996.

Next thing he knew, he was traveling all over the U.S. and Canada making people laugh. As an opener for the likes of Howie Mandel, Rosie O'Donnell, Adam Sandler and Michael Bolton, Mike was spectacular. In his own headlining show, the Calgary Sun says, "Brush up on your sit-ups before you see this show otherwise your stomach muscles will hurt the next day...." He has since earned rave reviews across the country.

TO WIN 4 TICKETS. Reply with '' Absolute Comedy'' in the subject line or Direct Message with Absolute Comedy on twitter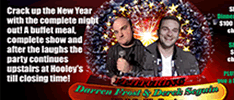 Julia Bruce started out as a serious actor, but soon realized that she liked comedy, and it liked her, a whole lot more. Once she made the transition, she quickly found herself the winner of the Phil Hartman Award, runner up in the Corner Gas Comic Genius contest (Comedy Network), was featured on Last Comic Standing (NBC), and is a semi-finalist in Sirius XM radio's Canada's Next Top Comic contest. She also appeared in the August 2006 issue of Chatelaine as one of Canada's up-and-coming female comedians. She has performed stand-up all across Canada, and recently returned from the LAFF Festival in Austin, TX.

TO WIN 2 TICKETS Reply with '' Yuk Yuk's at the Prescott '' in the subject line or Direct Message with Yuk Yuk's at the Prescott on twitter


In Theatres

Magic Mike
People Like Us
Ted
Tyler Perry's Madea's Witness Protection
Neil Young Journeys
Take this Waltz
I Heart Shakey
Last Ride
Beasts of the Southern Wild
Abraham Lincoln: Vampire Hunter
Brave
Seeking a Friend for the End of the World
The Last Ride
To Rome With Love
Grassroots
Journey - 2001
Kumaré
Rock of Ages
Patang
The Tortured


Ottawa movie showtimes and reviews link
Opening this Week

The Do-Deca Pentathlon - 2012-07-06
Savages - 2012-07-06
Crazy Eyes - 2012-07-06
The Magic of Belle Isle - 2012-07-06
The Pact - 2012-07-06
Easy Money - 2012-07-11
Ice Age: Continental Drift - 2012-07-13
The Imposter - 2012-07-13
Red Lights - 2012-07-13
Trishna - 2012-07-13
Union Square - 2012-07-13
The Dark Knight Rises - 2012-07-20
30 Beats - 2012-07-20
Hara-kiri: Death of a Samurai - 2012-07-20
The Queen of Versailles - 2012-07-20
The Odd Life of Timothy Green - 2012-08-15

Ottawa movie showtimes and reviews link

Top 10 Itunes Downloads

1 Carly Rae Jepsen - Call Me Maybe
2 Katy Perry - Wide Awake
3 Owl City & Carly Rae Jepsen - Good Time
4 Flo Rida - Whistle
5 Gotye - Somebody That I Used to Know
6 Ellie Goulding - Lights
7 David Guetta & Sia - Titanium
8 Maroon 5 - Payphone
9 Usher - Scream
10 Rihanna - Where Have You Been