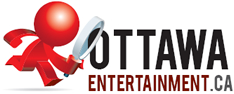 Monday

Absolute Comedy - Open Mic Mondays 8:30 $4.00

Beheading of a King, Belie my Burial, Adaliah, Letters from the Princess, Sleep is for the Dead @ Montgomery Legion Hall - AA/19+/6:30pm/$15

Punk Rock Spoken word with Ska Jeff + special guest @ Luneta (665 Bronson Ave.) - 19+/10pm/FREE
Tuesday

Absolute Comedy - 8:30 $5.00

Mambo - Mystics & Manicures Tuesdays- Ultimate Gals Night- Complimentary Manicures In-House Crystal Readings by Linda Steele (www.lindaenergyhealer.com) w/ Cocktails & Tapas on Special

Zaphod's - Industrial strength tuesdays - North America's longest running industrial and underground electronic night Every Tuesday with DJ Leslie + Guests 9PM – No cover, no dress code, no attitude.

Political Prisoners, the G20 and Anti-Colonial Resistance from Canada to Palestine @ Mcnabb Community Centre (180 Percy St.) - AA/7:00pm/FREE

Bry Webb and the Providers (ex-Constantines), Daniel Romano (of Attack in Black) @ Raw Sugar Cafe - AA/19+/8pm/$10

National Arts Centre - II Volo Tuesday | NAC Southam Hall August 28, 2012 7:30pm


Wednesday


Yuk Yuk's on Elgin - Local Talent Night - 8:30pm

Absolute Comedy - Pro-Am Night 8:30 $6.00

Kinki - Mystic Garden Wednesdays- Asian inspired NCVA approved Veggie-Vegan Menu w/ In-House Crystal Readings by the mesmerizing Linda Steele (www.lindaenergyhealer.com)- Healthy dinning has never been so fun!

Kinki - Karaoke is back, every wednesday. Come and sing under the stars on our patio and enjoy a special shot of Jagermeister for $4.

Mambo - Mystic Garden Wednesdays- Latin inspired Veggie/Vegan Menu w/ Special Jazz and Lounge performances by 'Noelle Dimar', & 'Doug Slone'' to groove to all evening long

Zaphod's - Breakdown Wednesdays - The Nation's Capital has been waiting for this night, and its finally here – headbang and rock the eff out to the latest and greatest.Your favourite classics of punk rock, thrashcore, metalcore, pop punk, hardcore and post hardcore rock"n'roll! Every Wednesday with DJ James 9PM – No cover, no dress code, no attitude.


Thursday


Barrymore's - Retro 90s n Top 40

Yuk Yuk's on Elgin 8:30

Absolute Comedy - 8:30 $10.00

Kinki - Tantalizing Thursdays- Tease your taste buds with our aphrodisiac inspired menu- Enjoy our complimentary Hand treatments & Massages and live Jazz performances by 'Rebecca Noelle'

Mambo - El Barrio Thursdays- Complimentary Tango lessons by Ottawa's Dynamic duo, Andre & Francine (www.francineandre.com)

Zaphod's - The Electric Ballroom - Alternative, Brit-Pop, Big Beat, Rock, Soul, Punk, Indie, 80s and Electro Thursdays, Fridays and Saturdays – After The Bands

StillNative @ Mercury Lounge (56 Byward Market Square) - 19+/9pm/FREE



Friday


Yuk Yuk's on Elgin 9pm $20.00

Yuk Yuk's at the Prescott 9pm

Absolute Comedy 8:00 & 10:30 $12.00

Kinki - Unleash Fridays - A weekend full of great DJ beats (DJ Dusty & DJ Sean) to listen and captivate- Exclusive weekend menu features & Pole Dancing entertainment to pair your night off the Kinki way!

Mambo - Fridays- Zona Viva * A weekend filled w/ great food, aromatic ambiance and DJ music to dance (DJ's Don Juan & Federico) - Weekly Lively Belly dancing performances to compliment your evenings.

Zaphod's - IN HEAT + THE PHERAMONES, 8:00 PM CAD5.00

Guttermouth, Remember the Fire, and Finderskeepers @ Cafe Dekcuf - 19+/9pm/$15


Saturday

Yuk Yuk's on Elgin - 9pm $20.00

Yuk Yuk's at the Prescott - 8 pm & 10:30 pm

Absolute Comedy - 8:00 & 10:30 $15.00

Mambo - Suave Saturdays - A weekend filled w/ great food, aromatic ambiance and DJ music to dance (DJ's Don Juan & Federico) - Weekly Lively Belly dancing performances to compliment your evenings.

Kinki - Throwback Saturdays - A weekend full of great DJ beats (DJ Dusty & DJ Sean) to listen and captivate- Exclusive weekend menu features & Pole Dancing entertainment to pair your night off the Kinki way!

Zaphod's - The Electric Ballroom - Alternative, Brit-Pop, Big Beat, Rock, Soul, Punk, Indie, 80s and Electro Thursdays, Fridays and Saturdays – After The Bands


Sunday


Absolute Comedy - 8:00 $10.00

Lieutenant's Pump - Bingo, music, prizes and games with DJ Bingo

Mambo - Zumba with Mambo - Every sunday for $25 per person - Enjoy a Zumba Fitness class with instructor Mabel Alvarez and finish off with a delicious Mambo Brunch. Zumba start time:10:30-11:30 Brunch: 11:45

Zaphod's - TRAILER PARK BINGO - Interspersed by HOT FUDGE SUNDAYS with DJ Retardinator

Natural Child, MV and EE, Organ Eyes, Average Times @ babylon - 19+/8:30pm/$8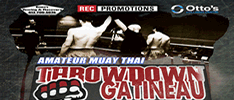 Gatineau Throwdown
September 29, 2012
Casino du Lac Lemay

September 29th, at the Hilton Lac Leamy, the best Amateur Muay thai fighters in the region will face-off in the ring.
Throwdown Gatineau is the premiere Amateur Muay Thai event in the region, playing to host to teams from all across Canada and the best teams in the National Capital. 15 to 20 fights, with local teams Team Bushido, Experience
MMA, Ottawa Academy of Martial Arts, Ronin MMA, Fit MMA, N-1 Thai boxing and Evolution representing the Ottawa-Gatineau area fighters.

Tickets are $35 dollars, $40 at the door - www.throwdown.ca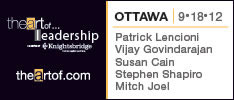 Building on the success of last year's SOLD OUT national tour in Canada, The Art of Leadership conference will be coming to Ottawa on September 18th, 2012. This world class program features five internationally renowned bestselling authors and visionaries, who will share an exciting blend of cutting edge thinking and real world experience on today's most critical leadership issues.

Through this special offer, you and your colleagues can take advantage of our preferred pricing and SAVE $50 off the regular price by using promo code OEC. Register Now

TO WIN 2 TICKETS. Reply with '' Art of Leadership September 18,2012 '' in the subject line or Direct Message with AOL on twitter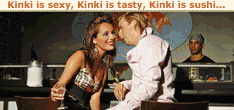 Mystic Garden Wednesdays- Asian inspired NCVA approved Veggie-Vegan Menu w/ In-House Crystal Readings by the mesmerizing Linda Steele (www.lindaenergyhealer.com)- Healthy dinning has never been so fun!

Tantalizing Thursdays- Tease your taste buds with our aphrodisiac inspired menu- Enjoy our complimentary Hand treatments & Massages and live Jazz performances by 'Rebecca Noelle'

Unleash Fridays & Throwback Saturdays- A weekend full of great DJ beats (DJ Dusty & DJ Sean) to listen and captivate- Exclusive weekend menu features & Pole Dancing entertainment to pair your night off the Kinki way!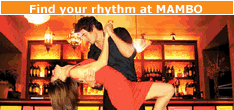 Mystics & Manicures Tuesdays- Ultimate Gals Night- Complimentary Manicures In-House Crystal Readings by Linda Steele (www.lindaenergyhealer.com) w/ Cocktails & Tapas on Special

Mystic Garden Wednesdays- Latin inspired Veggie/Vegan Menu w/ Special Jazz and Lounge performances by 'Noelle Dimar', & 'Doug Slone'' to groove to all evening long

El Barrio Thursdays- Complimentary Tango lessons by Ottawa's Dynamic duo, Andre & Francine (www.francineandre.com)

Zona Viva Fridays & Suave Saturdays A weekend filled w/ great food, aromatic ambiance and DJ music to dance (DJ's Don Juan & Federico) - Weekly Lively Belly dancing performances to compliment your evenings.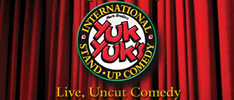 Richard's solid hour of stand-up is peppered with hard hitting politics, insight into his own failings and struggles, clever takes on the smallest and most universal topics, and even some slam poetry. Constantly challenging the levels of what stand-up can be – this pioneer of stand-up must be seen and heard to believe.

Dubbed "Canada's George Carlin" – with his second CD "At Least There's Drinking" selling out wherever he goes, Richard is one of Canada's best!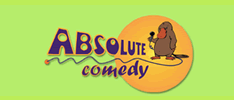 She has toured with Steve Harvey as well as opened for musical greats such as Angela Bofill and Alex Bugnon. Olivia's refreshing brand of humor serves as a great diversion for troops all over the world. Her routine covers subjects from male-female relationships to dieting to raising boys .

Olivia has performed on Black Entertainment Television's nationally syndicated comedy show "Comic View" as well as BETs Action PPV Step Up To The Mike taped in Jamaica.

TO WIN 4 TICKETS. Reply with '' Absolute Comedy'' in the subject line or Direct Message with Absolute Comedy on twitter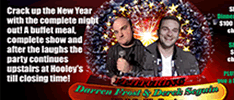 Fri Sep 14 - Sat Sep 15
RICHARD RYDER WITH ALEX WOOD & GREG SCHROEDER

Fast thinking and quick witted, Richard Ryder takes the stage with a refreshing energy and "no holds barred" attitude that audiences welcome again and again. No topic is too taboo for this Toronto native whose comedy is fresh, fast, funny and a constant source of embarrassment to his family.

TO WIN 2 TICKETS Reply with '' Yuk Yuk's at the Prescott '' in the subject line or Direct Message with Yuk Yuk's at the Prescott on twitter


In Theatres

Premium Rush
General Education
Little White Lies
Thunderstruck
Wild Horse, Wild Ride
Sleepwalk with Me
The Revenant
Hermano
Hit & Run
Chicken with Plums
The Expendables 2
ParaNorman
Sparkle
Cosmopolis
Why Stop Now
Robot & Frank
The Awakening
Side by Side
The Odd Life of Timothy Green
The Campaign


Ottawa movie showtimes and reviews link
Opening this Week

The Day - 2012-08-29
The Oogieloves in the Big Balloon Adventure - 2012-08-29
The Possession - 2012-08-31
For a Good Time, Call... - 2012-08-31
The Good Doctor - 2012-08-31
The Tall Man - 2012-08-31
The Flying Swords of Dragon Gate - 2012-08-31
Lawless - 2012-08-31
For Ellen - 2012-09-05
The Words - 2012-09-07
Bachelorette - 2012-09-07
Branded - 2012-09-07
The Cold Light of Day - 2012-09-07
Hello I Must Be Going - 2012-09-07
The Inbetweeners - 2012-09-07
Keep the Lights On - 2012-09-07
Toys in the Attic - 2012-09-07
Waiting Room - 2012-09-26

Ottawa movie showtimes and reviews link

Top 10 Itunes Downloads

1 Taylor Swift - We Are Never Ever Getting Back Together
2 Maroon 5 - One More Night
3 Flo Rida - Whistle
4 Fun. - Some Nights
5 Owl City & Carly Rae Jepsen - Good Time
6 Justin Bieber - As Long As You Love Me
7 Carly Rae Jepsen - Call Me Maybe
8 Phillip Phillips - Home
9 Cher Lloyd - Want U Back
10 Neon Trees - Everybody Talks