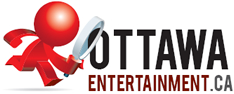 Monday

Absolute Comedy - Open Mic Mondays 8:30 $4.00

Beheading of a King, Belie my Burial, Adaliah, Letters from the Princess, Sleep is for the Dead @ Montgomery Legion Hall - AA/19+/6:30pm/$15

Exalt, Slumlord, A Past Unknown, People Explode @ Club SAW - AA/6:30pm/$12

Kill Devil Hill (feat mbrs of Pantera and Black Sabbath), The Catalyst, Inire, Defined @ Mavericks - 19+/7pm/$20/$25

Punk Rock Spoken word with Ska Jeff + special guest @ Luneta (665 Bronson Ave.) - 19+/10pm/FREE

National Arts Centre - Guided tours Monday - Friday | NAC Main Lobby (Foyer) July 2 - August 24, 2012 Running time is approximately 45 minutes with no intermission.

Ottawa Greek Festival - www.ottawagreekfest.com

Capital Pride Ottawa - www.capitalpride.ca
Tuesday

Absolute Comedy - 8:30 $5.00

Mambo - Mystics & Manicures Tuesdays- Ultimate Gals Night- Complimentary Manicures In-House Crystal Readings by Linda Steele (www.lindaenergyhealer.com) w/ Cocktails & Tapas on Special

Chris Walter, Teenage Head (played by four-stroke) and more @ Cafe Dekcuf - 19+/8pm/$6

National Arts Centre - Guided tours Monday - Friday | NAC Main Lobby (Foyer) July 2 - August 24, 2012 Running time is approximately 45 minutes with no intermission.

Ottawa Greek Festival - www.ottawagreekfest.com

Capital Pride Ottawa - www.capitalpride.ca


Wednesday


Yuk Yuk's on Elgin - Local Talent Night - 8:30pm

Absolute Comedy - Pro-Am Night 8:30 $6.00

Kinki - Mystic Garden Wednesdays- Asian inspired NCVA approved Veggie-Vegan Menu w/ In-House Crystal Readings by the mesmerizing Linda Steele (www.lindaenergyhealer.com)- Healthy dinning has never been so fun!

Kinki - Karaoke is back, every wednesday. Come and sing under the stars on our patio and enjoy a special shot of Jagermeister for $4.

Mambo - Mystic Garden Wednesdays- Latin inspired Veggie/Vegan Menu w/ Special Jazz and Lounge performances by 'Noelle Dimar', & 'Doug Slone'' to groove to all evening long

Tigers Jaw, Turnover, Sparrows, Young Statues, Goodsprings, PJ Bond @ Mavericks - AA/19+/6:30pm/$11

National Arts Centre - Guided tours Monday - Friday | NAC Main Lobby (Foyer) July 2 - August 24, 2012 Running time is approximately 45 minutes with no intermission.

Ottawa Greek Festival - www.ottawagreekfest.com

Capital Pride Ottawa - www.capitalpride.ca


Thursday


Barrymore's - Retro 90s n Top 40

Yuk Yuk's on Elgin 8:30

Absolute Comedy - 8:30 $10.00

Kinki - Tantalizing Thursdays- Tease your taste buds with our aphrodisiac inspired menu- Enjoy our complimentary Hand treatments & Massages and live Jazz performances by 'Rebecca Noelle'

Mambo - El Barrio Thursdays- Complimentary Tango lessons by Ottawa's Dynamic duo, Andre & Francine (www.francineandre.com)

Zaphod's - INLET SOUND + PHANTOM SHORES + DAVE NORRIS & LOCAL IVAN, 8:00 PM CAD5.00

National Arts Centre - Guided tours Monday - Friday | NAC Main Lobby (Foyer) July 2 - August 24, 2012 Running time is approximately 45 minutes with no intermission.

Ottawa Greek Festival - www.ottawagreekfest.com

Capital Pride Ottawa - www.capitalpride.ca



Friday


Yuk Yuk's on Elgin 9pm $20.00

Yuk Yuk's at the Prescott 9pm

Absolute Comedy 8:00 & 10:30 $12.00

Kinki - Unleash Fridays - A weekend full of great DJ beats (DJ Dusty & DJ Sean) to listen and captivate- Exclusive weekend menu features & Pole Dancing entertainment to pair your night off the Kinki way!

Mambo - Fridays- Zona Viva * A weekend filled w/ great food, aromatic ambiance and DJ music to dance (DJ's Don Juan & Federico) - Weekly Lively Belly dancing performances to compliment your evenings.

Zaphod's YES, PLEASE AND THANK YOU + GOLDEN BULLDOZER + RIISHI VON REX, 8:00 PM CAD5.00

Pink Noise, Total Crush, Organ Eyes @ Pressed (750 Gladstone) - AA/8pm/$5

National Arts Centre - Guided tours Monday - Friday | NAC Main Lobby (Foyer) July 2 - August 24, 2012 Running time is approximately 45 minutes with no intermission.

Capital Pride Ottawa - www.capitalpride.ca

Ottawa Greek Festival - www.ottawagreekfest.com


Saturday

Yuk Yuk's on Elgin - 9pm $20.00

Yuk Yuk's at the Prescott - 8 pm & 10:30 pm

Absolute Comedy - 8:00 & 10:30 $15.00

Mambo - Suave Saturdays - A weekend filled w/ great food, aromatic ambiance and DJ music to dance (DJ's Don Juan & Federico) - Weekly Lively Belly dancing performances to compliment your evenings.

Kinki - Throwback Saturdays - A weekend full of great DJ beats (DJ Dusty & DJ Sean) to listen and captivate- Exclusive weekend menu features & Pole Dancing entertainment to pair your night off the Kinki way!

Zaphod's - SECRET CITIES, 8:00 PM CAD10.00

The Allrights, The Johnnies, The City Above, Thunderuncle, Garaga, Mono Hum and more @ Vincent Massey Park Gazebo (Riverside Dr. @ Heron Rd.) - AA/2pm/FREE

Capital Pride Ottawa - www.capitalpride.ca

Ottawa Greek Festival - www.ottawagreekfest.com


Sunday


Absolute Comedy - 8:00 $10.00

Lieutenant's Pump - Bingo, music, prizes and games with DJ Bingo

Mambo - Zumba with Mambo - Every sunday for $25 per person - Enjoy a Zumba Fitness class with instructor Mabel Alvarez and finish off with a delicious Mambo Brunch. Zumba start time:10:30-11:30 Brunch: 11:45

The Color Morale, Close to Home, Hemispheres, Perjury, Wrath of Olympus @ Club SAW - AA/6:00pm/$12

Zaphod's - TRAILER PARK BINGO - Interspersed by HOT FUDGE SUNDAYS with DJ Retardinator

Capital Pride Ottawa - www.capitalpride.ca - Join us for the Capital Pride Parade at 1:00 PM

Ottawa Greek Festival - www.ottawagreekfest.com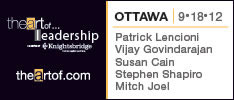 Building on the success of last year's SOLD OUT national tour in Canada, The Art of Leadership conference will be coming to Ottawa on September 18th, 2012. This world class program features five internationally renowned bestselling authors and visionaries, who will share an exciting blend of cutting edge thinking and real world experience on today's most critical leadership issues.

Through this special offer, you and your colleagues can take advantage of our preferred pricing and SAVE $50 off the regular price by using promo code OEC. Register Now

TO WIN 2 TICKETS. Reply with '' Art of Leadership September 18,2012 '' in the subject line or Direct Message with AOL on twitter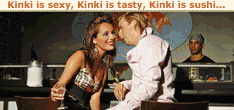 Mystic Garden Wednesdays- Asian inspired NCVA approved Veggie-Vegan Menu w/ In-House Crystal Readings by the mesmerizing Linda Steele (www.lindaenergyhealer.com)- Healthy dinning has never been so fun!

Tantalizing Thursdays- Tease your taste buds with our aphrodisiac inspired menu- Enjoy our complimentary Hand treatments & Massages and live Jazz performances by 'Rebecca Noelle'

Unleash Fridays & Throwback Saturdays- A weekend full of great DJ beats (DJ Dusty & DJ Sean) to listen and captivate- Exclusive weekend menu features & Pole Dancing entertainment to pair your night off the Kinki way!

August 23 7PM - Kinki Pride with your lovely hostess Dixie Landers andChynna Fox featuring Koston Kreme and Bambi Van Boo from Capital Tease Burlesque- Dress with Flair, music by DJ Balu.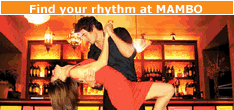 Mystics & Manicures Tuesdays- Ultimate Gals Night- Complimentary Manicures In-House Crystal Readings by Linda Steele (www.lindaenergyhealer.com) w/ Cocktails & Tapas on Special

Mystic Garden Wednesdays- Latin inspired Veggie/Vegan Menu w/ Special Jazz and Lounge performances by 'Noelle Dimar', & 'Doug Slone'' to groove to all evening long

El Barrio Thursdays- Complimentary Tango lessons by Ottawa's Dynamic duo, Andre & Francine (www.francineandre.com)

Zona Viva Fridays & Suave Saturdays A weekend filled w/ great food, aromatic ambiance and DJ music to dance (DJ's Don Juan & Federico) - Weekly Lively Belly dancing performances to compliment your evenings.

August 26 - Trash your wedding dress at Mambo - You celebrated the bachelorette, had a great wedding with the bridal party and that is it? No there is more... Trash your wedding dress.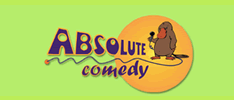 Paul C. Morrissey was raised as a sports fanatic in the tiny town of Owego, in upstate New York. After four years of playing college basketball, somehow he graduated. Aside from playing in the NBA, his dream job was to talk about sports for a living. Paul then moved to California after landing a television sports anchor job but found out quickly that he was "too much of a smart-ass" for TV news.

After he was fired, Paul took his unique sense of humor to comedy club stages all over the country. In 2005, Paul was selected to perform at the HBO Comedy Festival in Las Vegas. Morrissey has also been a finalist in several national comedy competitions including Wendy's Comedy Challenge, Comedy Central's Open Mic Fight and Maxim's Real Men of Comedy.

TO WIN 4 TICKETS. Reply with '' Absolute Comedy'' in the subject line or Direct Message with Absolute Comedy on twitter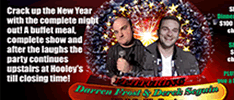 Carla Collins Carla Collins Canada's Entertainment and Comedy Diva Carla Collins is an award-winning comedian, television host, actress and writer. A gifted stand-up hailed as the "Queen of Comedy" by no less an authority than Flare magazine, Carla is a regular in Los Angeles at both The Comedy Store and the liquor store. She has performed at Just For Laughs, the Vancouver and Winnipeg Comedy Festivals and the Las Vegas Comedy Festival.

Carla brings her unique mix of wit and professionalism to every event she hosts, from a private corporate function to anything involving a red carpet.

TO WIN 2 TICKETS Reply with '' Yuk Yuk's at the Prescott '' in the subject line or Direct Message with Yuk Yuk's at the Prescott on twitter


In Theatres

The Expendables 2
ParaNorman
Sparkle
Cosmopolis
Why Stop Now
Robot & Frank
The Awakening
Side by Side
The Odd Life of Timothy Green
The Campaign
The Bourne Legacy
2 Days in New York
Goats
Red Hook Summer
$upercapitalist
Hope Springs
Nitro Circus The Movie 3D
Diary of a Wimpy Kid: Dog Days
Total Recall
360


Ottawa movie showtimes and reviews link
Opening this Week

The Apparition - 2012-08-24
Premium Rush - 2012-08-24
General Education - 2012-08-24
Little White Lies - 2012-08-24
Thunderstruck - 2012-08-24
Wild Horse, Wild Ride - 2012-08-24
Sleepwalk with Me - 2012-08-24
The Revenant - 2012-08-24
Lawless - 2012-08-29
The Day - 2012-08-29
The Possession - 2012-08-31
For a Good Time, Call... - 2012-08-31
The Good Doctor - 2012-08-31
The Tall Man - 2012-08-31
The Flying Swords of Dragon Gate - 2012-08-31
For Ellen - 2012-09-05
The Words - 2012-09-07
Bachelorette - 2012-09-07
Branded - 2012-09-07
The Cold Light of Day - 2012-09-07

Ottawa movie showtimes and reviews link

Top 10 Itunes Downloads

1 Taylor Swift - We Are Never Ever Getting Back Together
2 Flo Rida - Whistle
3 Fun. - Some Nights
4 Maroon 5 - One More Night
5 Justin Bieber - As Long As You Love Me
6 Carly Rae Jepsen - Call Me Maybe
7 Phillip Phillips - Home
8 Owl City & Carly Rae Jepsen - Good Time
9 Cher Lloyd - Want U Back
10 Neon Trees - Everybody Talks