Kinki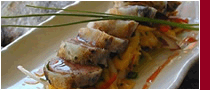 Welcome to the Ottawa Entertainment.ca Elgin Street fine dining restaurant section. Here you will find restaurants, dress code tips and dining suggestions for the famous Elgin Street. From trendy to chique and open late Elgin Street is the place to be.




Al's Steak House
327 Elgin Street
(613) 233-7111
3817 Richmond Road
(613) 828-8349
Now in the business of serving superb meals for 39 years, Al's proudly offers only certified Angus beef, as well as succulent chicken dishes, seafood, and even hearty lunchtime salads, sandwiches, and filet mignons. And it's all served up by a friendly, knowledgeable staff amidst chic, contemporary decor.


Fresco Guest Room
354 Elgin Street
(613) 235-7541
Open until 2am, the hybrid kitchen-bar is a hub of activity inviting you to chill out, settle in and take pleasure in a bite or two with wine. A simple and creative small-plate/ charcuterie menu sans pretension has been lovingly designed by Chef Steve Vardy and resident Chef Brent Pattee and is available after 10:00 pm. seven days a week.